Ted Cruz's Best Political Performances
His rendition of Cicero is the latest in a long tradition of political theater.
by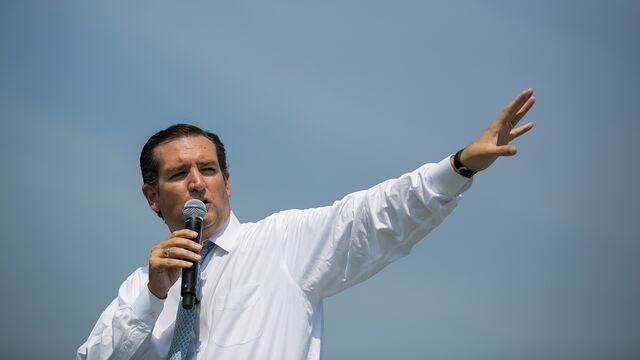 In case you were wondering, StopObamasAmnesty.com is already taken. In the contest to be the most outraged Republican in the wake of President Obama's immigration order, Senator Ted Cruz is the clear front runner (this tweet from Senator Rand Paul is a distant second). 
Obama's most recent executive order gave Senator Ted Cruz a chance to do what he does best: mix equal parts indignation, theatricality and brand building. Part of Cruz's appeal among conservatives is his stage presence, and it's a skill that has served him well (his speech at the 2014 Value Voters Summit was a hit), but has also lead to embarrassment. Here are his most well known moments, all of which received mixed reviews.  
Immigration
On Thursday Cruz re-upped his petition/listerv building exercise StopObamasAmnesty.com, but the main event was his rendition of Cicero's first oration against Catiline, from 63 B.C. Cruz replaced the Catilines with Obamas, and the Palatine Hills with the U.S.-Mexico border. Or, as Red State put it, "To emphasize this point further, Cruz hopped behind the wheel of a 2,000-year-old Cicero speech on Thursday, tricked it out with all the modern state-of-the-art topical accessories, and burned donuts around the Senate podium.  Don't try this at home, kids."
It's worth noting that the speech isn't actually an attack on executive power, but of Cicero's fellow senator, Catiline, attempting to overthrow the government. Malcolm Schofield, a Cambridge University professor, noted that Cicero was also accused of abusing his power.
"Quite a lot of people did think that in dealing with Catiline, Cicero overreached his powers," he told The Guardian. "He had some of [Catiline's] associates, who were Roman citizens, summarily executed without trial. It is a question whether he had the powers to do that."
Obamacare
The highlight of Cruz's filibuster against Obamacare was his reading of "Green Eggs and Ham," a book about someone who insists that he doesn't like something he hasn't tried. Some argued that the narrative of the story mirrored Republican opposition Obamacare before it even took effect—Cruz was not one of them.
The Middle East 
In September, Cruz walked off stage during the middle of his address at a gala hosted by In Defense of Christians, a group that raises awareness of Christians and religious minorities persecuted in the Middle East. Cruz left when members of the crowd booed him after he called Israel an ally. "If you will not stand with Israel and the Jews, then I will not stand with you. Thank you and God bless you," he said in a video of the event. 
 Cruz knew the night before his speech that some members of the crowd had ties to Hezbollah which "raise[d] questions of to what extent Cruz planned for the type of crowd reaction that he received," as BuzzFeed noted. 
Defending the Constitution
In March, Cruz accepted the conservative Claremont Institute's Statesmanship Award, given in honor of Winston Churchill. "We will never surrender," Cruz said during his acceptance speech, giving his best impression of Winston Churchill. 
 The critics were harsh, but as Cruz's communications director Amanda Carpenter tweeted: 
Before it's here, it's on the Bloomberg Terminal.
LEARN MORE