Some Missing Lois Lerner E-Mails May Have Been Found, Panel Says
Richard Rubin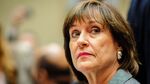 Some of the missing e-mails of former IRS employee Lois Lerner may have been found.
The data recovery by the Internal Revenue Service's inspector general comes five months after the agency said they couldn't be recovered. The Senate Finance Committee announced the discovery yesterday.
Congressional investigators have been trying to track down thousands of e-mails sent and received by Lerner from 2009 to 2011. She oversaw the Internal Revenue Service unit that caused a controversy when she acknowledged it gave extra scrutiny to Tea Party groups applying for nonprofit status.
That effort started in 2010 and became public in 2013.
Multiple congressional investigations and a criminal probe into the IRS are pending. Republicans have suggested that the e-mails may have been intentionally deleted or that the IRS wasn't looking hard enough for them.
In response to congressional inquiries, the IRS had said that many of her e-mails couldn't be recovered because of a hard drive crash and the recycling of backup tapes.
In a statement yesterday, the IRS said it's "committed to fully cooperating with all of the pending investigations." The IRS provided "disaster recovery tapes" to the inspector general, according to the statement.
When they receive the documents, Republicans will be looking for evidence of what motivated the IRS to look at Tea Party groups and any connections to administration officials outside the tax agency.
Disparaging Comments
Other Lerner e-mails that have been previously released showed her making disparaging comments about Republicans.
According to the Finance Committee, the Treasury Inspector General for Tax Administration "has been able to recover some forensic data which may include documents the IRS believed were missing."
Committee Chairman Ron Wyden, an Oregon Democrat, and top Republican Orrin Hatch of Utah said in a statement that the panel's report on the IRS treatment of politically oriented nonprofit groups would be released "early next year" after they review any new data.
Lerner disclosed the scrutiny in May 2013. She was suspended that month and retired later that year.
She has refused to answer questions from lawmakers, invoking her constitutional right against self-incrimination. The U.S. House of Representatives voted this year to hold her in contempt.
Karen Kraushaar, a spokeswoman for the inspector general, declined to comment.
IRS Commissioner John Koskinen had told lawmakers in June that the inspector general's report on Lerner's hard drive would be complete within weeks.
Before it's here, it's on the Bloomberg Terminal.
LEARN MORE