Hillary Clinton's Campaign-In-Waiting Grows Restless
The latest round of fundraisers highlights the breadth of Clinton's support, and a possible problem.
by and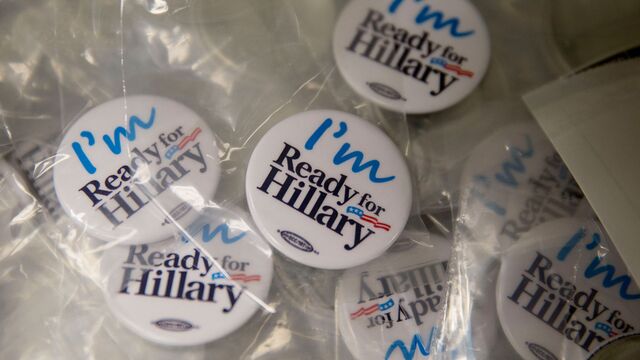 Hillary Clinton is close to being ready. Now, she just has to find a way to tame the legions of loyalists who have been ready since their last presidential ride ended.
The complicated political machine known as Clintonland is revving its engine, as outside groups, top donors, and prospective aides begin preparing for an anticipated formal announcement of her presidential candidacy early next year. In the coming week alone there will be a half-dozen fundraisers aimed at greasing the path toward her 2016 debut. Some events are aimed at scooping up checks for existing pro-Clinton groups, while others will pocket financial "commitments" for a future campaign account.
The main event is Friday's all-day donor gathering in New York City, featuring Clinton confidants from Arkansas to the State Department. Next up, would-be campaign financiers are holding 30-person dinners in Newark and New York City. They're like traditional fundraisers—all they lack is a candidate.
While people close to Clinton caution that no final decisions have been made, they say the former secretary of state has shifted her focus from public events and paid speeches to private conversations about the guts of a campaign—messaging, staff, money. Her goal, they say, is to launch with a fully formed political operation.
That would be difficult for any candidate, but that's particularly so for one with the last name Clinton. Unlike President Barack Obama, who's known for his tight circle of friends and advisers, the Clinton universe is a sprawling international club of foreign dignitaries, Hollywood stars and moguls, former administration officials and Wall Street executives. The vastness worries some supporters, who fret that the hordes of people who consider themselves close to the Clintons could complicate strategy. They want to avoid a campaign besieged by unsolicited advice, competing interests, and fierce rivalries. It's not so much a nightmare as a flashback to the 2008 primary.  "You got inside groups, you got outside groups. The party's going to have a role. Making sure all those pieces function a coherent matter is going to be a big challenge," said Craig Smith, a long-time Clinton confident, now advising Ready for Hillary. "(It's) something the campaign is going to have to work on." He added: "If there is a campaign."
Within months of Clinton leaving the State Department in 2013, four outside groups declared themselves devoted to her potential candidacy and formed a sort of campaign-in-waiting, each with its own fiefdom. Priorities USA Action, the big-money super-PAC, plans to handle paid media. Emily's List, a group that backs the campaigns of Democratic women who support abortion rights, started Madam President as an early effort to assess voter views on the idea of a female president. Correct the Record, founded by Clinton backer David Brock, has established itself as the research arm, publicly defending her from Republican attacks. And Ready for Hillary, which has a list of 3 million supporters to sell her campaign if she gets in the race, is the base camp for activists.
"I felt like the rationale of grassroots support and building lists is a really important lesson she learned from the last go-round," said Jennifer Selendy, a litigation partner at Kirkland & Ellis in New York, who donated $25,000 to Ready for Hillary. "If she gets into the race, I'm sure I will contribute."
While the groups have tried to define separate missions, there's some overlap, including among major donors whose checks come with a fair number of opinions.
Already, Clinton's circle is engaged in an internal debate over when she should formally announce her candidacy. Some argue that sooner is better, allowing her to maximize the time her campaign and supportive super-PACs have to raise money for what's expected to be at least a $1 billion enterprise. Others—friends, mostly—say Clinton should take her time because the moment she announces she'll be pounded with Republican attacks. Why wear the "hit me" sign any sooner than necessary?
In the meantime, Clinton emissaries are quietly reaching out to possible staffers. And while political strategists in Washington have not quite started looking for housing in White Plains, N.Y.—a city not far from the Clinton home in Chappaqua, and therefore a potential headquarters location—they've begun speculating on the merits of living in New York City versus the suburbs. 
Several Clintonites are being eyed for senior positions. Robby Mook, who managed the campaign of longtime Clinton fundraiser and Virginia Governor Terry McAuliffe, is being considered as campaign manager. That possibility was underscored by a preliminary strike against him from an opposing camp: the leak of his private messages from a 150-member "Mook Mafia" email list he ran with another Democratic operative.
Guy Cecil, executive director of the Democratic Senatorial Campaign Committee, is another name mentioned by people close to Clinton for campaign manager or another top position. White House counselor John Podesta, a former chief of staff during President Bill Clinton's administration, is on any short list. "If she runs, as I hope she will, I will do whatever she asks me to do," he told Bloomberg's Al Hunt in an interview on Charlie Rose. "I talk to her from time to time."
With the midterm elections over, Clinton's path to harness the Democratic Party is clear—so far, no serious 2016 primary challengers are on the horizon. Former Virginia Senator Jim Webb, who lacks the campaign skills and machine of the Clintons, opened an exploratory committee this week. A number of Obama's top aides have joined the organizations that will become part of her campaign apparatus, and at least a few top officials who refused to back her eight years ago have already endorsed her candidacy. "I'm frequently introduced as the highest-ranking woman in U.S. office; I'd like to give up that title, and soon," House Minority Leader Nancy Pelosi, who resisted endorsing Clinton in 2008, told a cheering crowd in San Francisco last month. 
The various components of the campaign-in-waiting now must decide their next steps, including whether to continue to exist.
Priorities USA Action officials are beginning to court big check-writers in one-on-one visits. The super-PAC says it won't formally accept donations until Clinton announces. "We played a critical role in helping elect a Democratic president in 2012 and we look forward to doing the same in 2016," said Peter Kauffmann, a spokesman for the organization.  
Ready for Hillary was designed to be different. Instead of hoarding piles of cash to unleash in a barrage of television ads, this group has existed solely to cultivate a vast base of small donors for Clinton. It has spent nearly all of the $10 million it raised since two Clinton lifers set it up in January 2013. Once Clinton announces, Ready for Hillary plans to lease its list of supporters to the campaign and is likely to dissolve. No matter its future, Ready for Hillary served another purpose—locking down operatives and showing off Clinton's dominance to potential rivals. The group also became a clearinghouse for surrogates such as Senators Mark Warner of Virginia, Chuck Schumer of New York, and Claire McCaskill of Missouri.
"For people wondering when we're done, we're done if and when she runs," said Tracy Sefl, an adviser to the group. "Right now, we're going to keep doing the work and we're thrilled with what we're accomplishing."
Before it's here, it's on the Bloomberg Terminal.
LEARN MORE