The Next Republican Group Targeting Mary Landrieu
American Crossroads is the latest group to take aim at the embattled Louisiana Democrat.
by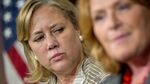 American Crossroads is the newest player in the Republican tag-team against Senator Mary Landrieu.
The Republican super-PAC associated with Karl Rove is going up on the air in Louisiana's U.S. Senate race starting Friday, according to public television station documents. It's spending about $1 million to air this ad on broadcast and cable stations in all Louisiana markets:
If the ad looks familiar, it should: American Crossroads ran a version against Democratic incumbents in several other states, including Arkansas and New Hampshire.
The group supports Republican challenger Bill Cassidy, a three-term congressman, in the Dec. 6 runoff election. Landrieu lags in the polls in part because of President Barack Obama's poor approval rating in a state he lost by 17 percentage points in the 2012 election.
The buy includes a $11,000 spot on New Orleans's NBC affiliate during the New Orleans Saints-Baltimore Ravens Monday Night Football game on Nov. 24. (The Saints are struggling at 4-6, but that's good enough to be tied for first in the mediocre NFC South, so any fans not at the Superdome will be watching the game on TV).

American Crossroads is going up in Louisiana as other Republican groups, including the National Republican Senatorial Committee and the super-PAC Ending Spending Action Fund, are scaling back their television buys. Ending Spending, which is backed by TD Ameritrade founder Joe Ricketts, is rotating off television for a week as American Crossroads goes up. Ending Spending is continuing its radio ads and get-out-the-vote efforts in Louisiana and will be back on television from Nov. 27 through the Dec. 6 election.
Republicans are dominating the ad wars in Louisiana, a race they see as a great opportunity to augment their incoming majority to 54 seats from 45 today. The pro-Cassidy side's ads have appeared about 10 times as frequently as spots for Landrieu, according to data compiled by Kantar Media's CMAG. Landrieu released an ad Wednesday that drew a contrast with Cassidy on minimum wage and pay equity policy.
American Crossroads raised more than $28 million for the 2014 election through Oct. 15, Federal Election Commission data show. A sister organization, the nonprofit issue advocacy group Crossroads GPS, spent more than $2 million on the race in October. The groups are led by Steven Law, a former chief of staff to incoming Majority Leader Mitch McConnell of Kentucky. Law appeared on "With All Due Respect" last week to discuss 2014 successes and 2016 plans.
Before it's here, it's on the Bloomberg Terminal.
LEARN MORE