New Yorkers on Ebola Response: Good Job, Everybody
The president, mayor and governor all get high marks in a new Quinnipiac poll.
by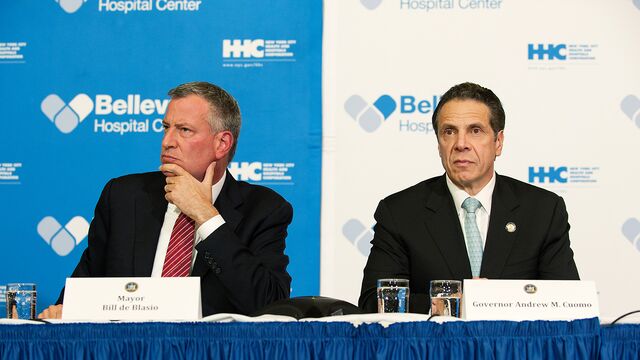 Despite the different approaches elected officials took to handling the Ebola case in New York City, voters there say everyone did a pretty solid job.
According to a Quinnipiac poll released Thursday, approval ratings for three leaders in the city on the issue are sky-high: 68 percent for President Barack Obama, 67 percent for Democratic Governor Andrew Cuomo and 74 percent for Democratic Mayor Bill de Blasio.
That's surprising, considering Cuomo and de Blasio took very different approaches to the outbreak. After holding a joint news conference with de Blasio urging a calm response, Cuomo and New Jersey Governor Chris Christie, a Republican, partnered up to announce a mandatory 21-day quarantine period for medical workers returning from Ebola-stricken areas in West Africa. 
While public-health experts warned against the move, 67 percent of voters said that decision was "about right" and 7 percent said it didn't go far enough. Half of voters said "foreign visitors" from the region should be quarantined.
"There were some differences of opinion last month on how to handle medical workers exposed to Ebola," said Quinnipiac University Poll assistant director Maurice Carroll in a news release, "but in 20-20 hindsight, all of our elected leaders get good grades from New York City voters." 
New Yorkers are also, for the most part, not worried about cases breaking out—64 percent of voters said they're "not so concerned" or "not concerned at all" that someone in their family will get Ebola in the next year.
Quinnipac interviewed 1,164 New York City voters over the phone from Nov. 12-17. The poll has a margin of error of plus or minus 2.9 percentage points. 
Before it's here, it's on the Bloomberg Terminal.
LEARN MORE