McConnell to Require Senators to Work Fridays
Senators in the nation's capital can expect to work longer hours under Republican leadership.
by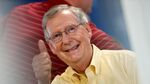 Mitch McConnell, the incoming Senate Majority Leader, is apparently not a fan of long weekends. Following through on McConnell's promise to keep the Senate open on Fridays, his office released its 2015 calendar on Thursday. According to CQ Roll Call, it includes longer hours and workweeks than those seen under Democratic Majority Leader Harry Reid.
Under Reid, the Senate regularly scheduled its final votes at 4 p.m. Eastern Standard Time, allowing members who live on the West Coast ample time to travel home for the weekend. 
A Rasmussen Poll taken in August found that 76 percent of Americans surveyed believed that they worked harder than their representatives in Congress, while 10 percent said that our nation's lawmakers worked harder.
But working harder may not be all it's cracked up to be. A poll released Wednesday by the Wall Street Journal found that 52 percent of those surveyed thought that the government should be doing more to "solve problems," while 46 percent said that government was doing too much. 
While McConnell will be mandating longer workweeks, senators will still have plenty of vacation time. The esteemed body will recess the third week of Feb., then for two weeks around Easter, a week at Memorial Day, and another week around the 4th of July. After that comes the late-summer vacation, from Aug. 10 through Sept. 7, and then time off the weeks of Columbus Day and Thanksgiving. Winter break begins on Dec. 18, and runs through the New Year. Not bad, in a country whose government doesn't guarantee paid holidays or vacation days.
Before it's here, it's on the Bloomberg Terminal.
LEARN MORE