Incoming Republican Governors Laud Key Surrogates: Their Wives
Texas' Greg Abbott and Maryland's Larry Hogan are touting their wives' help with outreach to immigrant and minority communities.
by and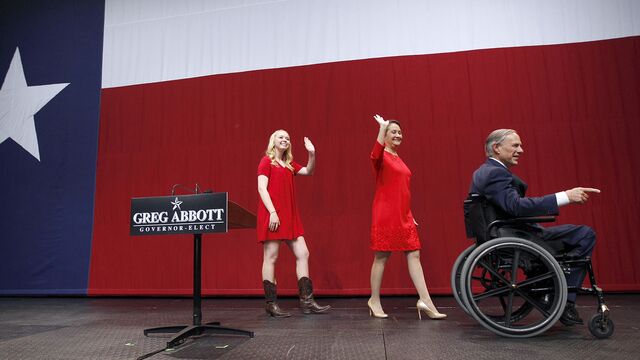 Haley Barbour kicked off a Thursday session with governors-elect at the Republican Governors Association conference by saying he wasn't going to make them talk about immigration reform. The former Mississippi governor, who once headed the RGA, was trying to compensate for a panel the day before, in Boca Raton, Fla., in which governors groused they were spending too much time talking about President Barack Obama's immigration plans, taking away time they could be using to focus on their plans on issues such as energy and education.
As it turned out, two of the incoming Republican governors wanted to tout their own, very personal immigration credentials: their wives.
Texas Governor-elect Greg Abbott reminded the audience that his wife, whose grandparents were Mexican immigrants, will be Texas' first Hispanic first lady. "This is more than just a talking point, it's a genuine part of who we are as Texans," he said. His wife was his "secret weapon" in Hispanic outreach during the campaign, he said.
"This outreach to the Hispanic community is not something that ends on Election Day, but will continue for generations to come, ensuring that we unite two constituencies that generally agree on most of the issues," he said, "and that is the Republican party constituency and the Hispanic community."
(Then things got a little weird as he extended the analogy: "Once we marry those two communities the same way I've been married to my wife of 33 years, we will have lasting Republican majorities," he said.)
Not to take anything away from Abbott, said Maryland's Governor-elect Larry Hogan, but "my wife is gonna be the first Asian-American first lady in Maryland history" and with her help, he said, he won Maryland's Asian-American vote "overwhelmingly."
Both wives attracted some news coverage during their husband's campaigns. Cecilia Abbott is a children's advocate. Yumi Hogan, born in South Korea, is an artist. Hogan has said the couple will elevate kimchi awareness. 
Before it's here, it's on the Bloomberg Terminal.
LEARN MORE