Reid's Politics Turn With Obama's Executive Action on Immigration
Jonathan Allen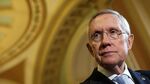 Senate Majority Leader Harry Reid yesterday praised President Barack Obama's pending immigration plan with warm language: "This is personal to me," he said.
Personal, and political.
The Nevada Democrat needs to rally Hispanics, who account for 27.5 percent of the state's population, if he hopes to win a sixth term in 2016. On Nov. 17, he signed a letter urging Obama to act quickly to shield millions of undocumented immigrants from deportation. Tomorrow, Reid will be at Obama's side when the president outlines the plan in Las Vegas. The event follows Obama's televised address on immigration tonight.
"It kicks off Harry Reid's 2016 campaign nicely," Robert Uithoven, a Nevada-based Republican strategist said of the event. "It is one of those key constituencies that Harry Reid would like to get a head start on and this will help him do that."
People close to Reid say immigration is an issue where the political imperative of rallying Hispanic voters lines up with his feelings.
"No one appreciated more the power of the Hispanic voter than Senator Reid in 2010, and I'm sure that he's anxious to tap into that again in 2016," said Jim Manley, a former Reid spokesman. "But for him this issue has been a real cause."
Vocal Advocate
In recent years, Reid has been among the most vocal advocates for an overhaul of the immigration system that creates a path to citizenship for people who are in the U.S., expands the temporary-worker program and enhances border control efforts. In 2013, the Reid-led Senate passed an immigration bill addressing all three issues on a 68-32 vote.
Earlier this year, Senate Democrats prevailed upon Obama to delay taking unilateral action because they feared it would cause a voter backlash that in turn would cost them control of the Senate and shrink the coalition that supports giving legal status to undocumented immigrants. At the time, Reid had to weigh the interests of the caucus against his own desire to see the president act, said a person familiar with his position.
Democrats lost the Senate anyway. Even after that, Reid briefly argued that Obama should wait to issue an order to avoid derailing budget negotiations. He quickly reversed himself with the letter to Obama.
Re-election Threat
The greatest threat to Reid's re-election is Nevada Governor Brian Sandoval, a Hispanic Republican who defeated Reid's son, Rory Reid, 53 percent to 42 percent in 2010. Sandoval won a second term earlier this month, capturing more than 70 percent of the vote.
"They are very, very worried about Sandoval," Nevada political analyst Jon Ralston said of Reid and his advisers. "Everything he does now can be seen through that prism."
While Sandoval is Hispanic, he won just one-third of the Hispanic vote in his 2010 race against the younger Reid, exit polls showed. The elder Reid won 69 percent of the Hispanic vote that year in beating Sharron Angle, according to exit polling. The group Latino Decisions, which took issue with the exit-polling methodology, says Reid did even better.
The Center for American Progress, a Washington-based policy group that aligns with Democrats, estimates that 20.3 percent of the eligible Nevada voters in 2016 will be Hispanic, up from 16.88 percent in 2012, meaning it's a richer target group for Reid.
"I don't believe the immigration issue alone would be enough to beat Sandoval if he were to enter the race," said Uithoven, who said that a lot of Nevadans don't think Sandoval will ultimately run against Reid.
Political Weapon
In a statement yesterday, Reid foreshadowed using immigration as a political weapon.
"I have been so disappointed that Republicans have ducked, dodged and skirted taking up legislation this Congress," Reid said, referring to the decision of House Republican leaders not to vote on the Senate-passed bill or similar legislation. "There is no better place than Nevada for President Obama to outline the actions he is taking to keep families together, improve the economy and protect our national security."
As for Reid's quick pivot toward pushing Obama to act, Ralston said that's playing to form.
"He can switch on a dime if it's politically expedient," Ralston said.
Before it's here, it's on the Bloomberg Terminal.
LEARN MORE