Eric Cantor's Former Crew Hangs a Shingle in Washington
Washington's revolving door spins again, with members of the former House majority leader's staff opening a new lobbying firm.
by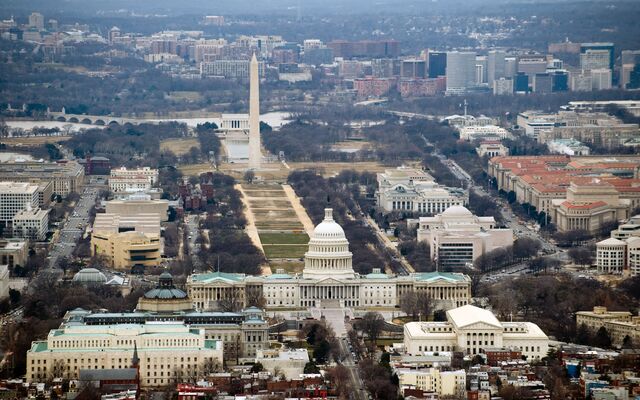 A triumvirate of former Republican leadership aides is starting a consulting shop in Washington at time when lobbying revenues are flat, the number of registered lobbyists is declining and lawmakers aren't passing that many bills. But their timing may be fortuitous. The new firm opens January 1, just days before members of their party take over the majority of both chambers for the first time since 2006.
The new firm, Harbinger Strategies, includes Steve Stombres, Kyle Nevins and John O'Neill and initially will focus on tax policy, financial services and national security. Stombres and Nevins both worked for former House Majority Leader Eric Cantor, who is now vice chairman at the New York-based investment bank Moelis & Co. after becoming the first majority leader to lose a primary election. O'Neill was a former counsel and policy director for ex-Senate Majority Leader Trent Lott. 
"We think we have the ability to find common ground and get something done," said Stombres, 44, whose 22-year career at the Capitol culminated as Cantor's chief of staff. He'll join Nevins, Cantor's former floor director, and O'Neill, who are both currently working at Capitol Counsel LLC, where they've both lobbied for companies such as Delta Air Lines, General Electric and The Blackstone Group. The three declined to say what clients they've signed up at the new firm, and haven't yet settled on office space.
Nevins, 34, whose first child was born this week, said the smaller sized firm will focus on "high-level" services. "I think small has worked pretty well for some folks here in the past few years, so we're going to give it a try," Nevins said.
The firm opens amid a peculiar climate in Washington. The total number of lobbyists in Washington has dropped 16 percent since 2007 and annual spending on lobbying—which grew to $3.3 billion in 2008 from $2.2 billion in 2004—has since leveled off.
The lack of growth in lobbying is likely due to several factors, including an executive order from President Barack Obama that barred appointees from lobbying the executive branch for the rest of his presidency, which meant that many instead now act as "strategic consultants" and "policy advisers." Some companies also cut back their presence in Washington as the economy recovered from a recession, and partisan gridlock contributed some of the most unproductive sessions of Congress in U.S. history.
"Some (companies) may be looking to the next Congress to get more involved," said Monte Ward, president of the American Government Relations Professionals. Republican leaders in Congress have promised to end the gridlock, saying the message from the elections was to show the party can govern. 
"It's very rare that you have three people who've really been in the fight on Capitol Hill to join together to create a firm," Mike Sommers, House Speaker John Boehner's chief of staff, said about Harbinger. "All three have them have incredible experience here and I think are going to do a great job downtown." 
Before it's here, it's on the Bloomberg Terminal.
LEARN MORE