Cuomo on the Midterms: 'Democrats Didn't Perform'
The governor says voters took out their frustration over gridlock on Democrats.
by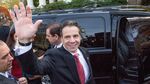 New York Governor Andrew Cuomo on Thursday said Democrats "paid the price" in the midterms for being the public face of an ineffective government. 
Cuomo appeared on MSNBC's "Morning Joe" to talk about the severe weather upstate and was also asked what he thinks President Barack Obama risks with his expected executive action on immigration.
"Obviously you'd like to do it by legislation, but you have executive authority and I think he's going to make the point that he heard the people and government is functioning and maybe the Republican Congress should get with it," the Democrat said.
Cuomo blamed congressional gridlock for the midterm election results earlier this month, when Republicans gained control of the Senate, grew their majority in the House and netted two gubernatorial seats. (Cuomo, a possible presidential contender, won his own race against Republican Rob Astorino.)
"Government is supposed to function, government is supposed to operate," he said. "At the end of the day government is a service bureau and it's not a debating society that is supposed to have political, endless, ideological debates in Washington and accomplish nothing. Ultimately people respond to that and the Democrats paid the price, honestly, in the past election because the Democrats have the reins and the Democrats didn't perform and the people said, 'We fire the person at the top,' right?"
Before it's here, it's on the Bloomberg Terminal.
LEARN MORE