Al Franken Takes on Uber
The Minnesota senator, who is losing his subcommittee this year, wants answers.
by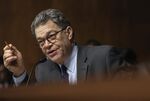 Two weeks after he easily secured a second term, Minnesota Senator Al Franken is plunging into the scrum of journalists, investors, and technologists now questioning the ride-share company Uber. In a letter sent Wednesday to Uber's chief technological officer, Travis Kalanick, Franken asks about the news, broken by BuzzFeed's Ben Smith, that Uber senior vice president Emil Michael speculated about paying to dig up dirt on reporters covering the company. Franken pulls the same thread that BuzzFeed and the tech media have pulled all week, asking questions about Uber's omniscient data knowledge, including:
"Was any disciplinary action taken as a result of Mr. Michael's statements?"
"To whom is the so-called 'God view' tool made available and why?"
"Why aren't customers asked to affirmatively consent to this use of their information?"
Franken concludes by saying that he expects answers to his questions by Dec. 15. (In an email Thursday, Uber spokeswoman Natalia Montalvo said the company will "be responding to Sen. Franken's questions in the coming weeks.") The timing underscores his problem: As a member of the expiring Democratic majority, Franken is losing his gavel in the Privacy, Technology and the Law subcommittee of Senate Judiciary. That committee was only created in 2011, and Franken's the only chairman it's ever had. Incoming Chairman Chuck Grassley, an Iowa Republican known (among other things) for his dada approach to Twitter, may well scrap the subcommittee. Franken's late move may bring attention to his work, and save the committee, or it may be one of the last crusades he's able to launch from it.
Before it's here, it's on the Bloomberg Terminal.
LEARN MORE