Tom Steyer Says Climate Skeptics Are Still on the Run–Seriously, They Are
A green mega-donor says his issues are still working for the left.
by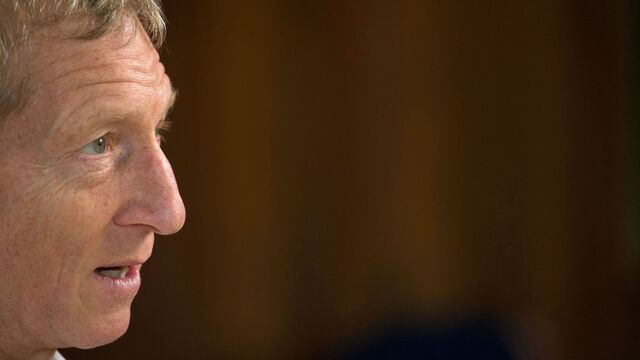 Every progressive or Democrat who invested heavily in the 2014 elections came out looking tarnished and bedraggled. No one came out so poorly as Tom Steyer, the hedge funder who galloped into Democratic politics just when the party needed a savior from the Koch network and the gathering armies of 501s and super-PACs. The California-based Steyer, who spent $57.6 million to build his NextGen Climate group into a swing-race player, came away with wins in Pennsylvania and Michigan but losses most everywhere else. Washington, which loves a good "rich outsider gets bilked" story, recorded all of this.
After the election, Steyer issued a sunny-side-up epistle of spin. "With the help of more than 2,000 staff and volunteers in 50 offices across the country," he said, "climate change emerged as a top-tier issue in our nine targeted states this November and our opponents were forced to go on the defense."
On Wednesday, at a post-election conference put on by the Center for American Progress, the press-choosy Steyer sounded even more optimistic about the election.
"You made climate part of this election, and we thank you for that," said Carol Browner, the former "climate czar" who found a post-election perch at CAP. "I think in every single Senate race, there was at least one debate where the issue of climate was on the table."
Steyer, who started his remarks by leading applause for White House counselor John Podesta, described an election strategy that evolved quickly and sort of worked.
"I think we found what has been true for the last five years, in our experience," he said. "If you talk in generalities, if you talk from the point of view of the globe, you are in trouble." Voters would respond if they heard a "deeper local basis" for climate issues. "It's unrealistic to ask voters in Florida to worry about the drought in California."
Steyer described a focus group, at which his advisers thought they'd found a winning frame for climate issues. "People are very worried about the idea that money in politics is getting special privileges," he said. "The moderator said [to the group], 'look, we're trying to close a tax loophole. Some lobbyist passed this at midnight. It's costing the state of California a billion a year.'"
Anyone who followed the 2014 races closely might be skeptical about that lesson. NextGen did not hesitate to tie Republicans such as Iowa's Joni Ernst and Colorado's Cory Gardner to a sprawling, favor-hungry network of donors. These Republicans won anyway. 
Ever optimistic, Steyer suggested that Republicans held off the attacks by evolving. "There aren't many science deniers anymore, because you can't get elected as a science denier," he said. He quoted a much-mocked line that some Republicans had used when confronted on whether they thought climate change was man-made. "'I'm not a scientist' is a huge advance from 'I disagree with the science.'"
Podesta, who has been in politics far longer than Steyer, was less convinced that Republicans had really moved on climate. "'I'm not a scientist'–that's a dodge," he said. "That's a [Frank] Luntzian phrase to get out of the conversation."
Before it's here, it's on the Bloomberg Terminal.
LEARN MORE