Rick Perry: 2012 Presidential Run Was a 'Bit Arrogant'
The Texas Governor says he's comfortable he is better prepared for a presidential campaign in 2016.
by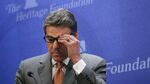 Texas Governor Rick Perry acknowledged Wednesday what America has known for two years: He was not a very good presidential candidate in 2012. 
"I was a big arrogant," Perry told The Washington Post during an interview at the Republican Governors Association in Florida. Perry said he believed at the time that his experience running one of the country's most populous states prepared him. "I was mistaken," he admitted.
Next time, however, things will be different. "I'm comfortable I'm substantially more prepared to run for the presidency," he said. "I know the challenges. And so, again, I'm not ready to pull the trigger and say I'm in, but I'm comfortable that the process I've put in place here is a proper, timely and thoughtful process."
Perry's campaign lost steam after a series of mistakes, including the time he forgot the name of the third federal agency he would disband as president during a live debate. In considering another run in 2016, Perry has had to gauge whether voters would give him a second chance—he thinks they will, and has spent the last several months making the case for his comeback. 
"I'm a big believer that Americans…are interested in how do you perform after you've been knocked down," he told The Post. Or, as he put it in a June 2014 profile in the New York Times Magazine: "Americans don't spend all their time looking backward."
Lucky for Perry, some in the media have embraced his makeover narrative. An August 2014 profile The National Journal argued that "This time around…Perry wants everyone to know that he is ready—gung ho, even—for the nitpicking and hoop-jumping and all-around hard work that a serious White House campaign entails." He has about 10 months to prove it—the first Republican presidential primary debate is scheduled for Sept. 16, 2015. 
Before it's here, it's on the Bloomberg Terminal.
LEARN MORE