Republican Governors Celebrate, Boca-Style
On the agenda: Panels, private meetings, donor time and early jockeying for still-unannounced 2016 presidential campaigns.
by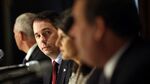 Where can you find pink stucco as far as the eye can see, surf-and-turf on the dinner menu, face time with at least half of the likely 2016 Republican presidential field and a guest appearance by Eric Cantor?
At the Republican Governors Association's annual conference, which the group is holding Wednesday and Thursday at a luxury seaside resort in Boca Raton, Fla. On the agenda: panels, private meetings, lots of time with donors and early jockeying for prospective presidential-campaign support.
The association also is looking for a new chairman with New Jersey Governor Chris Christie's term wrapping up, though so far, several governors who may run for president either have said no thanks or signaled they're not interested.
The Wednesday agenda includes a news conference featuring Christie and Indiana Governor Mike Pence (both of whom may jump in in 2016); two governors-elect who upset Democratic incumbents, Larry Hogan of Maryland and Bruce Rauner of Illinois; and Florida Governor Rick Scott, who hung on to his seat with lots of help from Christie. A panel called "The Road Ahead" features other possible presidential rivals, all incumbents: Wisconsin's Scott Walker, Texas' Rick Perry, Louisiana's Bobby Jindal, Ohio's John Kasich and Pence.
Fresh from a winning midterm election for Republicans, many of the governors gathered Tuesday night, before the conference's start, at the Boca Raton Resort & Club for a private celebratory dinner, with surf-and-turf plates and heat lamps to make up for a rainy cold front moving through. Christie, Walker, Jindal and Michigan Governor Rick Snyder all spoke, as did major GOP donor Fred Malek, according to aides who attended the dinner. Also spotted: Eric Cantor, the former House majority leader ousted in a primary earlier this year, and now vice chairman and managing director of Moelis & Co. investment bank. One aide said Cantor had a crowd around him all night.
Before it's here, it's on the Bloomberg Terminal.
LEARN MORE