Landrieu Ad Attacks Cassidy on Minimum Wage, Pay Equity
The Democratic incumbent is emphasizing wages and women as the Dec. 6 runoff approaches.
by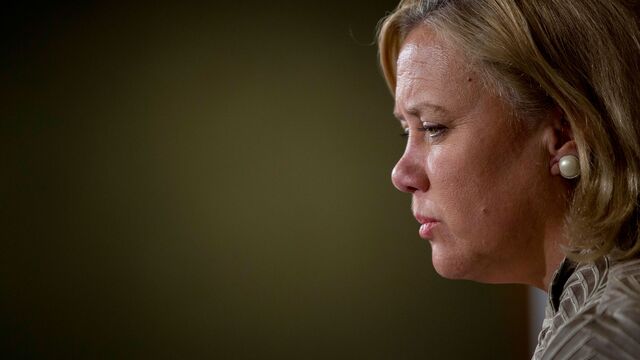 A day after losing a last-ditch bid to get the Keystone XL pipeline approved, Mary Landrieu took her case for re-election to Louisiana voters in a new TV advertisement. The target: Representative Bill Cassidy, her Republican opponent in a Dec. 6 runoff election in which Landrieu is the underdog.
Cassidy voted "against raising the minimum wage" and "against enforcing equal pay for women," a narrator intones in the spot, which began airing Wednesday morning on Baton Rouge's ABC affiliate:
For those of you keeping score at home: on the minimum wage, the Landrieu ad cites Cassidy's "no" vote in March 2013 on a Democratic "motion to recommit" a Republican education bill back to the committee of jurisdiction "with instructions" to amend the bill text to include minimum wage hikes. These procedural votes often fail on party-line votes, as that one did.
At a candidate debate on October 29, Landrieu said she supports a higher federal minimum wage. Cassidy said that raising the wage floor would kill jobs.
Landrieu's ad cites Cassidy's vote in January 2009 against the so-called Lilly Ledbetter legislation to make it easier for workers to win pay-discrimination lawsuits. President Barack Obama signed the bill into law later that month. In a candidate debate on October 14, Cassidy referred to the Lilly Ledbetter legislation as a "trial attorney bailout bill."
Like Landrieu's last ad, this spot takes snippets from a Cassidy appearance (in this case, a Google Hangout) to try to make him look unintelligible and eccentric.
The runoff-election TV ads are running overwhelmingly against Landrieu as she goes at it alone. Republicans accounted for 91 percent of the 5,298 ads that aired between Nov. 5 and Nov. 17, according to Kantar Media's CMAG. Cassidy's allies include the National Rifle Association and two super-PACs.
Landrieu won 42 percent of the vote in Louisiana's all-party election on Nov. 4, compared with 41 percent for Cassidy and 14 percent for another Republican, Rob Maness.
Before it's here, it's on the Bloomberg Terminal.
LEARN MORE