Freshman Lawmakers Play the Lottery for Top Capitol Office Space
James Rowley and Kathleen Miller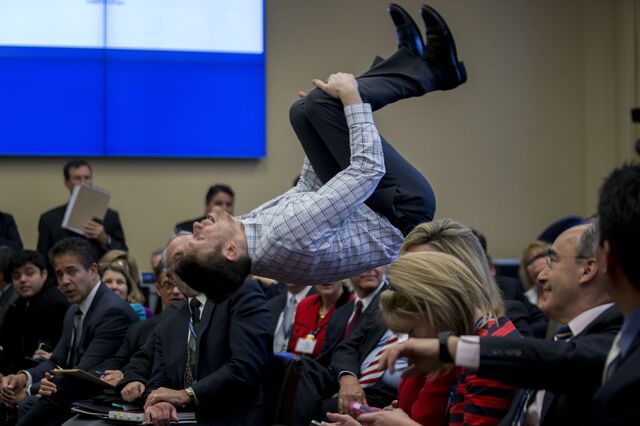 U.S. Representative-elect Debbie Dingell was philosophical about the small office she will occupy beginning in January compared with the spacious suite inhabited by her husband.
"At the point at which I was picking, beggars cannot be choosers," said Dingell, who drew the 40th pick in today's office lottery for 57 new House members who will take office Jan. 6 when Congress reconvenes. Dingell, a Democrat, will succeed her husband, John, to represent a Michigan district near Detroit.
The draw is serious enough that some new lawmakers were turning to lucky charms. Michigan Democrat Brenda Lawrence said in advance that she was buying a rabbit's foot. Brendan Boyle, a Pennsylvania Democrat, had said he would pat a trusted University of Notre Dame logo.
The dean of the House, John Dingell is retiring after serving 60 years in Congress. His office is in the Rayburn House Office Building, the most modern structure that is out of reach for the new members. His wife will get a first-floor suite in the Cannon Office Building.
The incoming freshmen got to pick from offices left over after other more senior members picked theirs in the biennial real estate shuffle on Capitol Hill. Offices are assigned strictly by seniority -- or luck, in the case of new members.
California Republican Steve Knight drew the top lottery number and picked an office in the Longworth House Office Building. Barbara Comstock's experience as a House aide in the 1990s didn't give her a leg up over fellow freshmen. She drew number 57 and was assigned 226 Cannon.
Louisiana Seats
House officials picked offices for the eventual occupants of two Louisiana congressional seats. They won't be elected until a runoff election Dec. 6.
Incoming lawmakers were trying to avoid some of the least-desirable locales. No one wants to be stuck on the fifth floor of the Cannon House Office Building, among the toughest places for lawmakers and constituents to reach.
"I've heard of people getting spots only accessible by one small elevator on the top of the Cannon building," said Ruben Gallego, an Arizona Democrat who will join Congress in January.
Some offices are larger than others, some have nice views of Washington, some are closer to the floor where the members will vote and others are closer to Washington Metro subway stations -- making it easier for constituents to visit.
Senate System
As with many things in Congress, the Senate has a different system than the House. Instead of a lottery, the Senate Rules Committee makes office assignments based on seniority. Freshman lawmakers are given temporary spaces as more senior members have first pick of the offices of retiring members or those with more years in the Senate.
The freshman members have a choice of what's left over based on a system that weighs, among other things, previous elected service and the population of the state they'll represent in the Senate.
On the House side, the choices can sometimes be downright unpleasant.
"I just want a spot that's not outside," said Alma Adams, an incoming North Carolina Democrat.
The fifth floor of Cannon is so bad that Gerry Connolly, a Virginia Democrat elected in 2008, chose as a freshman to have his office space broken up by a women's bathroom on the third floor, rather than move two floors up. Connolly said he probably was one of the last five lawmakers that year to pick an office.
"I took it sight unseen," he said. "It was a split office, with two contiguous offices, the ladies' room, and then a third room for staff. Most are three rooms together, but I was willing to take it to avoid that dreaded fifth floor."
Before it's here, it's on the Bloomberg Terminal.
LEARN MORE