Democratic Opposition Grows to Obama Treasury Pick Weiss
Kathleen Hunter, Richard Rubin and Angela Greiling Keane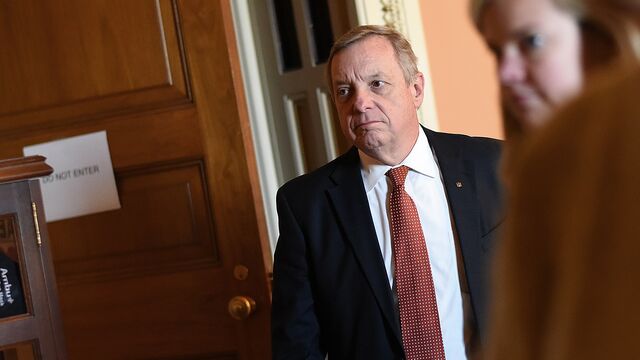 Democratic resistance to Antonio Weiss's nomination to a top Treasury position intensified yesterday, as one of the party's Senate leaders has decided to oppose him while another detailed her objections to the pick.
Second-ranking Senate Democrat Richard Durbin is against President Barack Obama's selection of Weiss, the global head of investment banking at Lazard Ltd., to be Treasury undersecretary for domestic finance, a Senate Democratic aide said. That puts Durbin in league with Democratic Senator Elizabeth Warren of Massachusetts, who went public with her reasons for opposing Weiss in an article published on the Huffington Post website last night.
Lazard, a merger advisory firm, has been involved in several tax-inversion deals, in which companies reduce their U.S. tax bills by moving their addresses overseas.
Durbin of Illinois, one of Obama's staunchest congressional allies, has concerns about Weiss's work on corporate inversions, said the aide, who spoke on condition of anonymity to describe the senator's views.
A top White House aide said Weiss still can be approved by the Senate.
"I'm confident that he's confirmable," White House adviser John Podesta said a phone interview yesterday. "We intend to fight for his confirmation with Democrats and Republicans because we think he's very well qualified."
'Bad Message'
Warren, in her article, said that "it's time for the Obama administration to loosen the hold that Wall Street banks have over economic policy making."
A "bad message" is sent by "the over-representation of Wall Street banks in senior government positions," Warren said. "It tells people that whatever goes wrong in this economy, the Wall Street banks will be protected first."
She also questioned Weiss's fitness for the post he was nominated for last week by Obama, saying neither his background "nor his professional experience makes him qualified to oversee consumer protection and domestic regulatory functions" at Treasury.
The split among Democrats could complicate prospects for the nomination, said Senator John Thune of South Dakota, a Finance Committee member and the Senate's third-ranking Republican.
"Obviously, we've got to fill these positions, they're important positions and they're going to be making the nominees," Thune said yesterday without taking a position on Weiss. "If you've got Dem-on-Dem fights on some of these issues, I think it complicates it, makes it harder to clear the deck to get them done."
Next Year
Confirmation probably wouldn't happen until next year because of the few days remaining for Congress to be in session this year and because of the pace taken by the Senate Finance Committee on nominations, Podesta said.
Republicans, following the results of this month's midterm elections, take over the Senate majority from Democrats in the new congressional session that convenes in early January.
The rare Democratic opposition to an Obama nominee shows the tension within the party over its relationship with the finance industry, which provides Democrats with campaign contributions and backs policies opposed by the party's populist wing.
Warren, elevated earlier this month to the Democratic Senate leadership team because of her ties to the party's base, started the move against Weiss. On Nov. 14, a person familiar with her views said she would oppose his nomination because of his work on corporate tax inversions and Wall Street employment history.
Warren detailed those concerns in her Huffington Post article.
Burger King
"One of the biggest and most public corporate inversions last summer was the deal cut by Burger King to slash its tax bill by purchasing the Canadian company Tim Hortons and then 'inverting' the American company to Canadian ownership," she says. "And Weiss was right there, working on Burger King's tax deal."
The inversion effort by Burger King Worldwide Inc. is pending.
Senator Bernie Sanders, a Vermont independent who caucuses with Democrats, said Nov. 17 that while he's not ready to make a final judgment on Weiss's nomination, he is concerned.
"It's a pretty good nonstarter for me," Sanders said.
Democratic Senator Maria Cantwell of Washington, a Finance Committee member, hasn't taken a position on the Weiss nomination, her spokesman, Jared Leopold, said in an e-mail. Other Democrats on the Finance Committee also declined to take positions on Weiss yesterday, including Charles Schumer of New York, Tom Carper of Delaware and Sherrod Brown of Ohio.
'Serious Concern'
The Independent Community Bankers of America sent a letter to lawmakers yesterday with objections to Weiss.
"Wall Street is already well represented at Treasury, and the narrow focus of Mr. Weiss's professional experience is a serious concern for ICBA and community banks nationwide," said the group's president, Camden R. Fine. The organization said it represents more than 6,500 community bankers.
In the Treasury job, Weiss wouldn't be responsible for tax policy. Instead, he would coordinate policies on banking, debt financing, capital markets and regulation. The undersecretary also works on implementation of the Dodd-Frank financial law.
Podesta defended the choice of Weiss.
"He's got the values that are representative of an administration that wants to deal with simplifying the tax code and make it work for the middle class, including on this question of inversions," he said.
Lew's Pick
Podesta, who worked with Weiss as head of the Center for American Progress, said Weiss would endorse efforts to curb corporate inversions. Treasury Secretary Jack Lew chose Weiss, who then got Obama's approval, Podesta said.
Lazard has its legal address in Hamilton, Bermuda, after taking advantage of a gap in an anti-inversion statute that the Treasury Department later closed.
Warren took note of the Lazard move in her article, saying the company in 2005 took advantage "of a particularly slimy tax loophole that was closed shortly afterwards."
Senate Finance Committee Chairman Ron Wyden told reporters on Sept. 18 that the panel probably will consider the nomination in 2015 after Republicans take control of the chamber. Wyden, an Oregon Democrat, and Senator Orrin Hatch, a Utah Republican who is poised to become the panel's chairman, haven't taken positions on the nomination.
Hypocrisy Charge
Senator Charles Grassley, an Iowa Republican who co-wrote anti-inversion legislation in 2004, said in a statement last week that the nomination showed the Obama administration's hypocrisy and that he would be asking tough questions of Weiss in confirmation hearings.
Inversions became a Democratic rallying point this year as companies including Pfizer Inc. and Walgreen Co. considered transactions and others such as Medtronic Inc. moved forward with them.
The Treasury Department in September detailed rules designed to make inversions less attractive for companies. Those rules focused in part on pre-deal transactions used to reduce the size of the U.S. company and thus escape limits pegged to the relative sizes of the two companies.
Wyden and Obama have urged legislation that would make it impossible for U.S.-based companies to complete inversions by buying a smaller foreign competitor. The plan would give the government an additional $19.5 billion over the next decade in tax collections.
That effort has stalled in Congress. Not all Democrats have endorsed the position and Republicans say the issue should be addressed as part of a broader revamp of the U.S. tax code.
Podesta said he hopes frustrated Democrats direct their ire at passing legislation rather than at opposing Weiss's nomination.
"I understand that they've been frustrated with our inability to move inversion legislation on Capitol Hill, but I don't think they should lay that at his doorstep," he said.
Before it's here, it's on the Bloomberg Terminal.
LEARN MORE