Ted Cruz Aims to Stop Internet Sales Tax Bill
Richard Rubin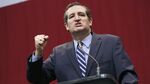 Senator Ted Cruz is trying to stop a proposal already facing opposition in the House that would expand taxation of sales over the Internet.
Cruz, a Texas Republican, said today it would be the "height of lunacy" for the U.S. House to support a bill giving states more power to tax after voters decided that Republicans will lead both chambers of Congress starting in January.
"The last thing we should be doing is passing a massive new Internet sales tax," he said at a news conference in Washington. He called the measure a product of lobbying by big corporations.
The bipartisan legislation, which the Senate passed last year, would let states tax purchases from out-of-state retailers even if those companies have no operations in the state. It would end the era of tax-free online shopping that brick-and-mortar retailers say has undercut them unfairly.
State officials say they lose as much as $23 billion in revenue a year when consumers buy goods from out-of-state sellers and don't pay sales taxes.
Cruz was joined by several House members, including Representative Steve Daines of Montana, who was elected to the Senate on Nov. 4. Cruz said he is trying to ensure that House Speaker John Boehner will "hold the line" on not allowing a vote this year.
Wal-Mart Stores
The bill -- a priority for governors in both parties and retailers such as Wal-Mart Stores Inc. -- passed the Senate in May 2013 on a bipartisan 69-27 vote and won support from the Obama administration.
National Retail Federation spokesman Stephen Schatz said in an e-mail, "The retail industry is not giving up hopes that sales tax fairness legislation can pass" this year.
The legislation hasn't been brought to a vote in the House, where Republicans who control the chamber are split. Some view it as a tax increase burdening companies that would have to comply with tax systems across the U.S.
Corporate opponents include online retailers EBay Inc. and Overstock.com Inc.
Representative Bob Goodlatte of Virginia, the Republican chairman of the House Judiciary Committee, has said he's working on alternatives, though he hasn't produced one and Congress is scheduled to adjourn for the year Dec. 11.
'Significant Concerns'
Kevin Smith, a spokesman for Boehner, said Nov. 10 that Boehner has "significant concerns" and that the issue "won't move forward this year."
Republicans will take over the Senate in January, and the incoming majority leader and Finance Committee chairman voted against the bill last year. Once the new Congress starts, the Senate would have to pass the bill again.
Representative Steve Womack, an Arkansas Republican who supports the sales-tax proposal, said in an interview today that he met with Boehner and still hoped for an opportunity to consider the issue in the current lame-duck session.
Congress will eventually be compelled to act, he said.
"The problem is going to get worse," said Womack, whose congressional district includes Wal-Mart's headquarters in Bentonville. "And we're going to write some obituaries of some small retailers."
Supporters of the sales tax bill, S. 743, have discussed tying it to the renewal of a moratorium on Internet access taxes that lapses Dec. 11. That proposal, H.R. 3086, has broad support, and Boehner opposes to linking the two issues.
Before it's here, it's on the Bloomberg Terminal.
LEARN MORE