Kerry Blames 'Incitement' for Attack on Jerusalem Synagogue
Terry Atlas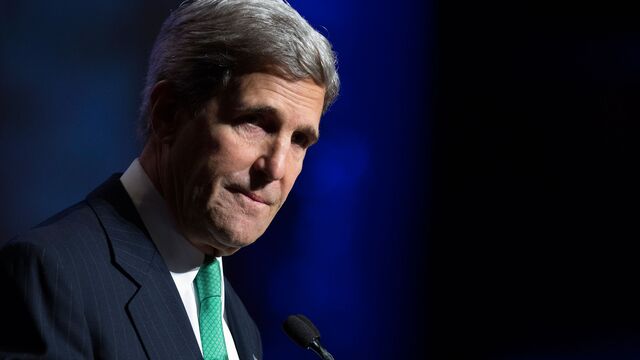 U.S. Secretary of State John Kerry called on Palestinian leaders to restrain the "incitement" he blamed for a deadly assault on a Jerusalem synagogue today.
"People who had come to worship God in the sanctuary of a synagogue were hatcheted and hacked and murdered in that holy place in an act of pure terror and senseless brutality and murder," Kerry said today in London, hours after the attack. "I call on the Palestinian leadership at every single level to condemn this in the most powerful terms. This violence has no place anywhere."
Four worshippers were killed by Palestinians armed with guns, knives and axes. Prime Minister Benjamin Netanyahu accused Palestinian President Mahmoud Abbas, commonly known as Abu Mazen, and Hamas, the militant group that rules the Gaza Strip, of whipping up incitement that encouraged the attack.
"To have this kind of act, which a pure result of incitement," is unacceptable, Kerry said, noting that Israel has taken steps to reduce tensions in Jerusalem.
Palestinian leaders "must begin to take serious steps to restrain any kind of incitement that comes from their language, other people's language and exhibit the kind of leadership that is necessary to put this region on a different path," he said.
Kerry spoke with Netanyahu by phone after the assault. The prime minister told Kerry the attack was "a direct result of Abu Mazen's incitement," according to a text message from Netanyahu's office.
Before it's here, it's on the Bloomberg Terminal.
LEARN MORE