The Colorful History of Ben Carson's Biggest Booster
A lucrative conservative super-PAC is run by a frequent candidate with an iffy past.
by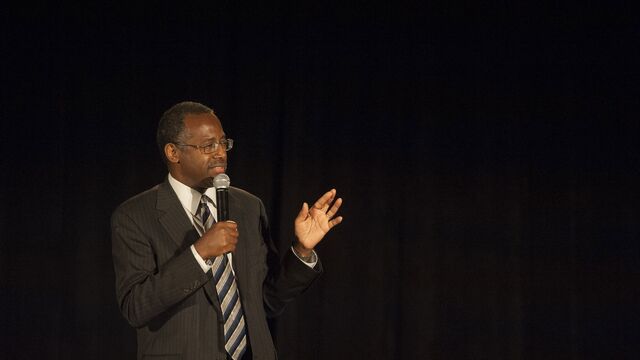 Scott Conroy is out with a comprehensive look at Ben Carson's following in Republican Iowa. Rosie Gray is up with the first look at the National Draft Ben Carson for President Committee's finances, often noted for their size–bigger than Ready for Hillary's!–but heretofore pretty opaque. The draft campaign, which is separate from Carson's own operation, has paid director Vernon Robinson "$236,000 [for] his work so far."
In discussing these stories, I was surprised at how few people remembered Robinson's 2006 campaign for Congress, when he challenged Democratic Representative Brad Miller in a safe blue seat in North Carolina. In that first election of the YouTube era, Robinson became a sensation, out-fundraising Miller by five figures even as he went down to defeat. He built a national network, helped by infamous TV ads like the spot that asked voters to consider what was wrong with an America in which "seven out of 10 black children are born out of wedlock, and Jackson and Sharpton claim the answer is racial quotas."
In another ad, in an attempt to ride the 2006 immigration bill backlash, Robinson accused Miller of supporting the right of "convicted child molesters to immigrate to America."
Miller, who retired in 2012 after his seat was gerrymandered out of existence, remembers Robinson as a rival who "gives crazy a bad name."
"My television consultant in 2006 thought the campaign was a scam, like the musical 'Springtime for Hitler' in The Producers," says Miller. "The campaign raised $2.2 million, and spent most (almost all) of that on fundraising. The money went to consultants, who we thought were in turn paying Robinson, maybe for the use of donor lists from his previous campaign, which might have been arguably legitimate, but probably just a kickback."
Robinson's ads were produced by Nate Pendley, who'd been suspended from the North Carolina bar, only to be reinstated after his mis-steps were pegged to mental illness. Pendley did not go away; he wound up working as chief of staff to Texas Representative Steve Stockman, who's retiring this year as a grand jury investigates whether he violated campaign finance reporting requirements.
A media coordinator for the National Draft Ben Carson for President Campaign deferred questions, saying that Robinson had nothing to add beyond what was in FEC reports.
Before it's here, it's on the Bloomberg Terminal.
LEARN MORE