Obama Says Kassig Beheading an 'Act of Pure Evil'
David Lerman and Glen Carey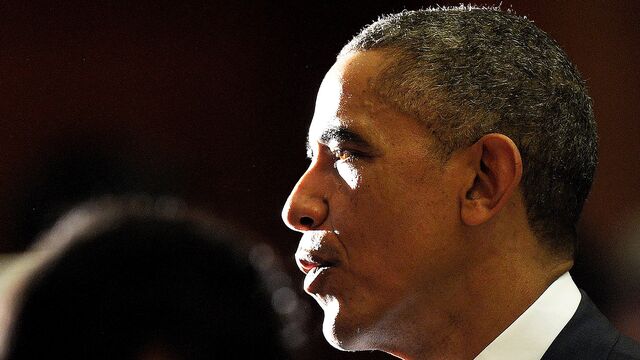 Islamic State extremists beheaded an American aid worker in "an act of pure evil," President Barack Obama said in a statement yesterday following release of a video from the militant Sunni group.
The video shows the severed head of Peter Kassig, who converted to Islam and took the name Abdul Rahman, Obama confirmed in his statement, issued from Air Force One as he returned from a trip to Asia. Actions such as beheadings "represent no faith, least of all the Muslim faith which Abdul Rahman adopted as his own."
Kassig, 26, is the sixth foreign captive executed by Islamic State and its sympathizers after the jihadist group seized large portions of northwestern Iraq and eastern Syria and declared an Islamic caliphate on the territory.
The 16-minute video, distributed on Twitter and jihadi websites, also shows the mass beheadings of a group of Syrian pilots, according to a posting by the SITE Intelligence Group, which monitors terrorist activity. The video also recounts the growth of Islamic State from 2003, when its founder Abu Musab al-Zarqawi began terrorist operations in Iraq.
"The Islamic State's choice to show the entire beheading process of the Syrian pilots is another attempt to terrorize the American public from supporting its involvement in a war against IS," SITE's director, Rita Katz, said in a statement, using an acronym for Islamic State.
Cruder Video
The video is cruder than previous ones produced by the al-Qaeda breakaway group, according to two U.S. intelligence officials who spoke on condition of anonymity to discuss preliminary conclusions. In the face of U.S. and allied airstrikes, Islamic State extremists may no longer be comfortable remaining in one place in the open desert as long as they did in previous videos, the officials said.
In addition to hostages, Islamic State also has executed hundreds of its foes in both Syria and Iraq.
"We are heartbroken to learn that our son, Abdul Rahman Peter Kassig, has lost his life as a result of his love for the Syrian people and his desire to ease their suffering," Kassig's family said in a statement posted on their Facebook page. "Our heart also goes out to the families of the Syrians who lost their lives, along with our son."
Video Warning
After beheading British hostage Alan Henning, a 47-year-old working for a charity delivering aid to Syria, the Sunni Muslim militants had warned that Kassig would be next.
In the video released yesterday, a masked man accuses Obama of lying about the withdrawal of troops from Iraq. He also identifies his location as the town of Dabiq in northern Syria near the Turkish border.
"Here we are, burning the first American Crusader in Dabiq, eagerly waiting for the remainder of your armies to arrive," the masked man says on the video in addressing Obama, according to SITE.
Kassig, a former U.S. Army Ranger who served in Iraq, became interested in humanitarian relief work when he visited Beirut, Lebanon, as a student at Butler University in Indianapolis, according to an interview in Time magazine last year.
He began volunteering as a trauma medic for Syrian refugees in a Lebanese hospital and then created his own relief organization called SERA, or Special Emergency Response and Assistance, he said in the interview. The grassroots group, which worked in tandem with larger aid organizations, focused on providing food, medical supplies and clothing to those in need, he said.
'Selfless Acts'
"These were the selfless acts of an individual who cared deeply about the plight of the Syrian people," Obama said.
Kassig was captured while traveling in Syria in October 2013.
"I certainly plan on continuing to try and serve those who are in need for as long as I live," Kassig said in the Time interview.
Unlike in previous execution videos, the victim wasn't shown making a statement prior to his death.
The absence of a confession or propaganda speech by Kassig suggests the former Ranger refused to cooperate with his captors, one of the U.S. officials said. Even if he had cooperated, Kassig would have been executed anyway, particularly since he had served in the U.S. military, the official said.
Islamic State and its supporters have executed citizens of the U.K., France and the U.S., including two American journalists, James Foley and Steven Sotloff, British aid worker David Haines, and French tourist Herve Gourdel. They have called the killings reprisals for the armed campaign against them.
International Coalition
The beheadings helped galvanize international opposition to Islamic State, leading to the formation of a U.S.-led coalition that is carrying out airstrikes in support of Kurdish and Iraqi government forces combating the extremist group.
The latest murder appears to be another attempt by Islamic State to draw the U.S. into a direct military confrontation with Sunni extremists, a third U.S. official said.
The emotional and political impact of the beheading is also likely to fuel a policy debate within the Obama administration on two fronts: whether still more U.S. troops are needed and whether to concentrate primarily on defeating Islamic State or devoting some resources to ousting Syrian President Bashar al-Assad, as many Arab allies want, the official said.
Before it's here, it's on the Bloomberg Terminal.
LEARN MORE