A Couple of Frat Guys are Behind 'Draft Rob Portman'
They've filed papers with the Federal Election Commission and will use social media to encourage the Ohio senator to run for president in 2016.
by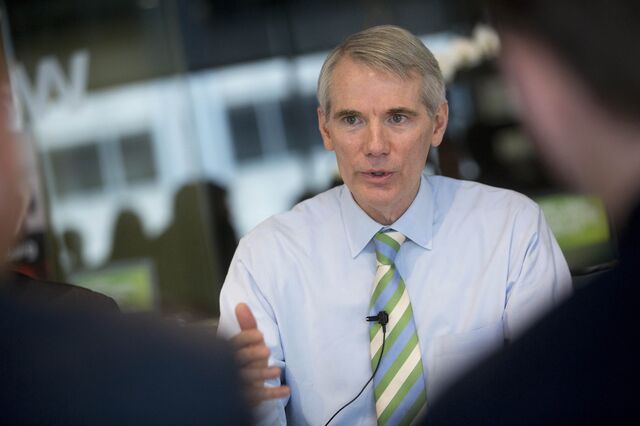 They've never met him, worked for him, or seen him in person. They aren't even from his native state. Yet fraternity brothers Trevor Parkes and Henry Longley want to leave their mark on the 2016 Republican presidential primary by drafting Ohio Senator Rob Portman into the race.
The pair of government majors at the College of William & Mary in Williamsburg, Va., filed paperwork—using their college P.O. box addresses—with the Federal Election Commission forming the "Draft Rob Portman" committee. "We just really, really admire Rob Portman and we think Senator Portman is exactly the kind of leader America is going to need in 2016," Parkes, 21, said in a telephone interview. Longley, 22, called Portman a "genuine person" with an "optimistic vision" for the nation. "We just want to measure the support that there is for Rob Portman and signal that to him. We felt that building a draft committee was the best way to go about doing that," he added. 
Barely old enough to drink legally, the two seniors saw other draft committees already working to lay the groundwork for a run by Democrat Hillary Clinton and Republican Ben Carson. The students—neither of whom is a native of Portman's Ohio—have worked on federal campaigns before; Longley took a semester off to work on Mitt Romney's 2012 Republican presidential campaign in southeastern Virginia. They've also thrown their own hats in the ring: Longley ran Parkes's unsuccessful bid for the presidency of the college's student assembly earlier this year, even creating a "Between Two Ferns" spoof to get out the vote.
The idea of drafting Portman has been a longstanding topic of conversation for them in the Delta Phi house, where Parkes and Longley live on the same floor. Parkes, an Eagle Scout, is the president of the fraternity. They said they came to admire Portman during the 2012 presidential campaign, when he was a prominent surrogate for Romney's campaign. Portman was a stand-in for President Barack Obama during Republican debate preparations and drew consideration as a vice-presidential running mate.
Longley began following Portman on Twitter in July and said he watched him on C-SPAN speaking this summer at a Politics & Eggs Breakfast in New Hampshire, a must-stop for prospective White House candidates. Portman, 58, was trade envoy and budget director for President George W. Bush, and before that served a dozen years in the House. He also served in George H.W. Bush's White House.
"He has a lot of meaningful experience, both in the executive and legislative branch," Parkes said.
Portman, who led 2014 campaign fundraising for the political arm of the incoming Senate Republican majority, told Bloomberg Politics last month that he was "going to sit down with folks I respect and talk to them" about a potential White House bid and "see what the lay of the land is." He's up for re-election to the Senate in 2016. 
"I'll be interested to hear what other candidates are saying. I'm convinced unless we have a change of leadership, we are not going to be able to get back on our feet," Portman said. "But I also worry about Republicans winning a national election unless we can broaden our base of support, so that's what I'll be weighing."
Parkes and Longley haven't informed Portman's staff of their efforts but probably will at some point. Longley has an ice-breaker for when they finally meet: the two share a birthday, Dec. 19. Portman's office didn't respond to a request for comment.
By creating a draft committee, Parkes and Longley can raise money to finance their efforts. A website is getting off the ground, a Facebook page is live and a Twitter account is getting started. They'll use social media to build support among young Republicans in Virginia, ramping up their outreach after the semester (they are college students, after all, and exam season is sandwiched between the Thanksgiving and Christmas holidays).
The project will also give them another chance to practice politics in the real world. Longley, in addition to his campaign work for Romney, was an intern to Republican Representative Buck McKeon of California. Parkes was William & Mary's campus coordinator for the 2014 Virginia U.S. Senate campaign of Ed Gillespie, who almost unseated incumbent Mark Warner, a Democrat.
"We're both just political nerds," Longley said.
Before it's here, it's on the Bloomberg Terminal.
LEARN MORE