Landrieu Works to Gather Senate Votes Needed to Approve Keystone
Kathleen Hunter and Jim Snyder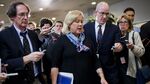 Louisiana Senator Mary Landrieu and her supporters are working to lock down the votes to pass her bill authorizing TransCanada Corp.'s Keystone XL pipeline -- and maybe help save the embattled Democrat's seat.
Landrieu, who trails Republican Representative Bill Cassidy in polls before a Dec. 6 runoff, was one vote shy by late yesterday of the 60 needed to pass the measure, according to a Senate aide.
The three-term senator told reporters this week she was confident the measure would pass when the Senate votes Nov. 18, and faulted party leaders for not allowing a floor vote sooner. The House yesterday passed, 252-161, an identical bill sponsored by Cassidy. Thirty-one Democrats voted for it.
"If the Democrats had been half as concerned about creating jobs for the American people as they are about saving the job of one politician in Louisiana, this would have been done years ago," South Dakota Senator John Thune, the chamber's third-ranking Republican, said in a Nov. 13 interview with Fox News.
Cassidy has sought to tie Landrieu to President Barack Obama, who has said a decision on the pipeline should await a government review of the project. Landrieu, chairwoman of the Senate energy committee, has campaigned on her influence in Washington and willingness to stand up to Obama on the pipeline and other issues that could aid her oil-rich state.
Until now, majority Democrats in the Senate had blocked proposals to force approval of the pipeline.
Obama Veto
If the Senate passes the bill, it would be sent to Obama, who could veto it.
A victory for Cassidy in the Louisiana race would bring to nine the number of Democratic Senate seats Republicans captured in the Nov. 4 election, giving them control of the chamber starting in January.
Incoming Majority Leader Mitch McConnell of Kentucky and House Speaker John Boehner of Ohio have cited bypassing Obama on the pipeline as a top priority for Republicans in 2015.
All 45 of the current Senate Republicans have said they support Landrieu's measure, meaning at least 15 Democratic votes are needed. Among the senators being courted to support the bill are Angus King of Maine, an independent who caucuses with Democrats, and Democrats Amy Klobuchar of Minnesota and Chris Coons of Delaware.
One Democrat whose vote was sought by pipeline supporters, Senator Bill Nelson of Florida, said through a spokesman that he'll vote against the measure.
Common Ground
House Majority Leader Kevin McCarthy, a California Republican, said he thinks Keystone ultimately will be built.
"You just had an election where the people are asking Congress to find common ground," McCarthy said, noting the bipartisan support for the Keystone bill. "And it provides jobs. So I'm feeling very positive about it."
Before the House vote, Obama offered his most pointed comments yet on the pipeline, challenging Republican claims that the project would create a significant number of jobs and would lower gasoline prices.
"Understand what this project is: It is providing the ability of Canada to pump their oil, send it through our land down to the Gulf where it will be sold everywhere else," the president said yesterday during a visit to Yangon, Myanmar. "It doesn't have an impact on U.S. gas prices."
Oil Dependence
Keystone will make the U.S. less dependent on oil from nations that aren't as close an ally as Canada, Representative Ed Whitfield, a Kentucky Republican, said yesterday during debate on the measure.
"There continues to be strong bipartisan support for Keystone XL and we are encouraged by any effort to move this process forward," TransCanada spokesman Shawn Howard said in an e-mail.
TransCanada, a Calgary-based pipeline company, proposed Keystone in 2008. It has become a battleground over jobs, climate change and energy security.
Obama indicated he thinks its importance is inflated.
"I have to constantly push back against this idea that somehow the Keystone pipeline is either this massive jobs bill for the United States or is somehow lowering gas prices," he said yesterday.
Environmentalists criticized the House action.
"The vote supported a destructive project with no redeeming value for anyone other than TransCanada," Luisa Abbott Galvao, a climate and energy associate with Friends of the Earth, an environmental group, said in a statement.
Before it's here, it's on the Bloomberg Terminal.
LEARN MORE