Happy Anniversary, Open Enrollment: An Obamacare Video Tribute
The president swears it will be easier this time around.
by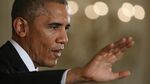 President Barack Obama is still doubling as the nation's HR rep. To mark Saturday's start to this year's three-month open enrollment period, the commander-in-chief is pitching Americans who just could not deal with the Obamacare signup mess last year to give it another try. He swears it will be easier this time around. "We've spent the last year improving and upgrading HealthCare.gov to make it faster and easier to use," he said.
While his video plea is hard to assail for its earnestness, it also reminded us of some of the more inspired Obamacare satires of the past year—from across the partisan spectrum. Here's a look back.

From the conservative nonprofit Crossroads GPS:
From Obama himself:
That Brad Paisley/Carrie Underwood song:
And don't forget "Saturday Night Live":
Before it's here, it's on the Bloomberg Terminal.
LEARN MORE