Governors Urge Congress to Let States Tax Online Sales
Jennifer Oldham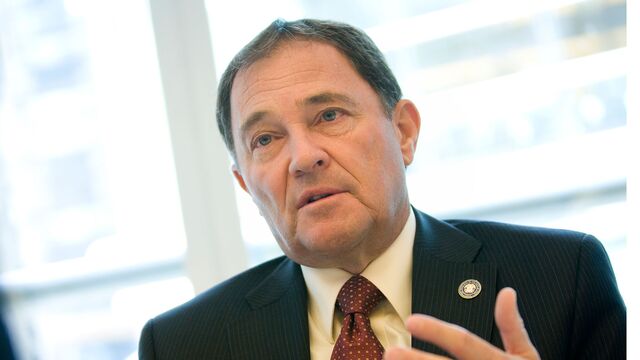 A dozen incumbent and newly elected governors called on Congress to heed voters' dissatisfaction with gridlock and pass legislation allowing states to collect taxes on Internet purchases.
"The onus is on Republicans to govern," Utah Governor Gary Herbert said today at the National Governors Association conference outside Denver.
"There are issues that need to be addressed that have been kicked down the road for way too long," said Herbert, a Republican and vice chairman of the governors association. "They will do themselves a very significant disservice and make it more difficult for themselves to win the White House in 2016 if they don't in fact get some things done."
Several new governors, including Nebraska Governor-elect Pete Ricketts, Maryland's Larry Hogan and Arizona's Doug Ducey, all Republicans in attendance at the event, are former businessmen elected by voters eager to show their dissatisfaction with politics as usual, said Colorado Governor John Hickenlooper, a Democrat and the NGA chair. Hickenlooper narrowly won re-election, beating former Congressman Bob Beauprez.
Governors from Arizona to Connecticut entreated Congress to focus by the end of the year on legislation known as the Marketplace Fairness Act, which would allow states to pass laws requiring Internet retailers to collect sales taxes.
Missing Out
States are missing out on $23 billion a year in sales taxes because residents are buying things online instead of at brick-and-mortar retail stores, said David Quam, the NGA's deputy director of policy.
"Darn close to every governor supports getting something done in legislation," Hickenlooper said. "This is something where we bring our combined forces to talk to our congressional representatives and our senators and really push it forward."
Retailers are now required by law to collect sales and use taxes only for states in which they have a physical presence.
The Senate passed the Marketplace Fairness Act in May 2013. The bill would allow states to require online and out-of-state companies to collect sales and use taxes. The measure is awaiting consideration in the House, Quam said.
"I've been a mayor or a governor since 1995 and this issue has been at the top of everyone's list," said Connecticut Governor Dan Malloy, a Democrat who won re-election by three percentage points over Republican Tom Foley. "Let's get it resolved."
Before it's here, it's on the Bloomberg Terminal.
LEARN MORE