Warren Said to Oppose Obama Pick for Treasury Job
Cheyenne Hopkins and Richard Rubin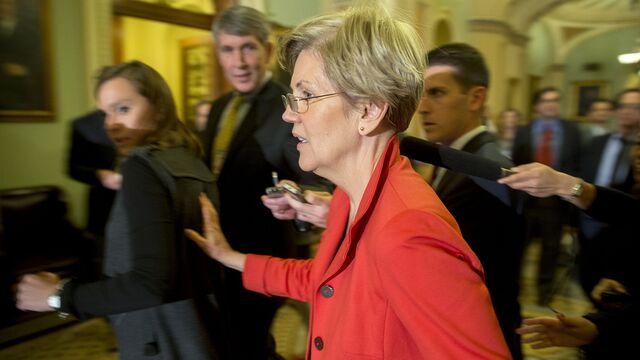 Lazard Ltd. banker Antonio Weiss finds himself in an unenviable position. He's caught in a brewing fight between the White House and a prominent Democratic lawmaker over the scope of the finance industry's influence in Washington.
U.S. Senator Elizabeth Warren has decided she won't support Weiss's nomination for a top post at the Treasury Department, a person familiar with her position said yesterday. The opposition stems as much from her view that President Barack Obama's administration is too cozy with Wall Street as displeasure with work Weiss did at Lazard on deals that helped U.S. companies cut taxes, known as inversions, said the person, who asked not to be named because Warren hasn't commented on Weiss publicly.
Warren's move came a day after Senate Democrats elevated her to a leadership position in their caucus, an ascent that followed her repeated criticisms that working families were struggling, while corporations and executives prosper. The risk for the White House is that her opposition leads to a groundswell among other Democratic lawmakers that imperils Weiss's prospects.
"He starts with two strikes," said Jaret Seiberg, an analyst at Guggenheim Securities in Washington. "He's got ties to Wall Street and he's got ties to inversions. These are not fatal wounds; it just means he's hostage to the political winds."
Erin Donar, a spokeswoman for Treasury, declined to comment yesterday on Warren's opposition to Weiss.
Curbing Inversions
The nominee will support Treasury Department efforts to curb inversions, in which a company buys another firm to move its address overseas, White House counselor John Podesta said in an interview yesterday.
Weiss, global head of investment banking at Lazard, was named earlier this week to become Treasury undersecretary for domestic finance. Lazard, a merger advisory firm, has been involved in several tax-inversion deals.
Lazard has its legal address in Hamilton, Bermuda, after taking advantage of a gap in an anti-inversion statute that the Treasury Department later closed.
The Treasury Department announced new rules on inversions in September, triggering the demise of a proposed merger of AbbVie Inc. and Shire Plc. The government is considering another round of rules and Obama has urged Congress to act. Obama chose Weiss to be a top lieutenant to Treasury Secretary Jacob J. Lew, who in July criticized inversions and called for a new "economic patriotism."
The decision to pick Weiss didn't signal an end to the White House's push for new rules and laws to discourage companies from lowering their tax rates, Podesta said.
Burger King
"The Treasury Department's already taken action on it as much as we could," Podesta said. "The Congress could turn its attention to it."
The Weiss nomination could provide senators with their first formal chance to weigh in on inversions. They've been unable to agree on legislation to curb the practice.
Lazard advised on three of the four inversions most recently announced in the U.S., including Burger King Worldwide Inc.'s planned adoption of a Canadian tax address through a takeover of Tim Hortons Inc. Weiss is a longtime adviser to the group of Brazilian investors who control Burger King.
Warren, a Massachusetts Democrat, isn't a member of the Senate Finance Committee, which will consider the nomination before it reaches the full Senate. She has expressed concern over what she sees as a revolving door of officials moving between the Obama administration and the finance industry, the person said.
Weiss Hearing
Lawmakers on the Finance panel haven't said yet whether they will hold a hearing on Weiss this year with Democrat Ron Wyden in charge or wait until Republican Orrin Hatch takes over as chairman when majority control of the Senate shifts.
Once the panel votes, it takes a simple majority of senators to confirm a nominee, and there would be nothing that Warren or any other lone senator could do to stop it, under rules the Democrats changed. If Republicans keep the rules, they could confirm nominees even if all Democrats are opposed.
Wyden, the current Finance chairman, told reporters Nov. 12 that he would have more to say soon on the Weiss nomination. He and his office haven't issued subsequent comments.
'Unpatriotic Tax Loophole'
Weiss will be considered under the process used to examine every nominee, said Julia Lawless, a spokeswoman for Hatch.
"Senator Hatch looks forward to thoroughly examining his record and gaining a better understanding of his fiscal views and how he will transparently manage the vast market for Treasury debt, which currently stands at an astounding $18 trillion and continues to grow," she said in a statement.
Drew Brandewie, a spokesman for Texas Republican John Cornyn, a committee member, also declined to comment. Cornyn is the second-ranking Senate Republican.
Obama has used aggressive rhetoric against inversions. In July he called them an "unpatriotic tax loophole" and said the U.S. should "embrace an economic patriotism."
Weiss donated $32,400 to Senate Democrats' campaign committee last year, according to federal records. He has also given money to three of the 13 Democrats on the Finance Committee: Maria Cantwell of Washington, Mark Warner of Virginia and Charles Schumer of New York.
The previous occupant of the job, Mary Miller, was chosen by Obama in July 2011. Her confirmation hearing didn't occur until Nov. 17 of that year, suggesting it would take unusual speed to confirm Weiss with the Senate under Democratic control.
'Obama Hypocrisy'
One Republican on the Senate Finance panel, Charles Grassley of Iowa, said in a statement this week that the Weiss nomination showed the "hypocrisy" of the Obama administration and that he expected a lot of questions.
In the Treasury job, Weiss wouldn't be responsible for tax policy. Instead, he would coordinate policies on banking, debt financing, capital markets and regulation. The undersecretary also works on implementation of the Dodd-Frank financial law.
Weiss has been a top Wall Street donor to Obama. He joined Lazard in 1993 and has also served as global head of mergers and acquisitions for the firm and a vice chairman of European investment banking.
He would replace Miller, who left the department in September. Matthew Rutherford, who had been assistant secretary for financial markets, has been acting undersecretary since Miller left.
Weiss, who holds a master's of business administration degree from Harvard University and is publisher of the Paris Review literary magazine, worked on many of the largest and highest-profile mergers and acquisitions of the past six years - - often involving multibillion-dollar takeovers of major U.S. consumer companies.
Brewer Adviser
He was a key adviser to Belgian-Brazilian brewing company InBev when it acquired Anheuser-Busch in 2008 for $52 billion to form Anheuser-Busch InBev NV. Later, he advised the company on its $20 billion acquisition of Mexican brewer Grupo Modelo in 2013.
Representative Rosa DeLauro, a Connecticut Democrat who has pushed for a ban on government contracts for inverted companies, said in an e-mail today she was "deeply disappointed in the administration for nominating someone who was instrumental in the proposed Burger King-Tim Hortons deal to such an important post."
Before it's here, it's on the Bloomberg Terminal.
LEARN MORE