The Democrats' 'Impeachment' Ruse
Republicans aren't actually using the "I-word" to spook Obama.
by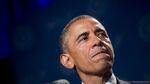 The velocity of the White House's adoption of "executive amnesty" for illegal immigrants has left its opponents surprised and scrambling. Only today did Heritage Action release a statement telling Republicans that failure to de-fund Obama's possible order in the year-end continuing resolution would mean "little more than a blank check for amnesty." Texas Senator Ted Cruz, the most prominent member of a clique that wants support for "amnesty" to be a defining issue in Loretta Lynch's upcoming hearings, has not said anything about the funding vote. Republicans are weighing their options, which will multiply in January. As Texas Representative Joe Barton told me this week, the expectation an Obama "amnesty" would last "three or four months," until the Republican Congress ended it.
If you read progressive media, you would think Republicans had bolder, bigger, stupider plans. Over at Mother Jones, you can find a list of eight "conservatives who would impeach Obama over immigration." At the National Memo, you can watch a super cut of Republicans discussing impeachment. The Huffington Post is the place to read coverage of Charles Krauthammer's insistence that amnesty would be "an impeachment offense."
The job titles of the various actors might tell you how overheated this is. Only four of Mother Jones's eight conservatives will be in Congress next year. Sarah Palin, who never has been in Congress, made her comments months ago; Andrew Napolitano is a Fox News analyst; Minnesota Representative Michele Bachmann and Texas Representative Steve Stockman are both retiring as ethics investigations rumble around them.
One who will be in Congress, Iowa Representative Steve King, in that list and in interviews (including one with me), refuses to even use "the I word" when asked.
The National Memo video is even shoddier than the MoJo List. It includes a few members of Congress, but pads the rolls with Stockman, failed New Hampshire candidate Marilinda Garcia, Georgia Representative Jack Kingston,  Michigan Representative Kerry Bentivolio, and Oklahoma Senator Tom Coburn (who only says Republicans would have to "establish the criteria" for impeaching Obama). It even drops a reference to Rachel Brown, a Lyndon LaRouche cultist who has never threatened to darken the doors of Congress.
Let's be clear: There are conservative voices asking for the president to be impeached, or at least threatened with impeachment, if he uses executive orders to defer deportation for some illegal immigrations. Conservative attorney and author Andrew McCarthy has been arguing since the summer that conservatives need to raise the credibility of the impeachment option, as the White House doesn't appear to wilt under any other threat. In a new column, written from National Review's post-election cruise, he bemoans how even the hardest of the hardcore laugh when he says Obama can be threatened with impeachment.
"The Framers could have designed the system a different way, but they did not," McCarthy wrote. "If you have a lawless and abusive president, and you nevertheless disavow the only weapon the system gives you to fight a rogue executive, you are going to get more lawlessness and abuse. Period. Impeaching Obama would be a very unpleasant choice, and there is clearly no appetite for it."
So why are Democrats and progressives hyping it? Not to raise money, as they did during the midterms. They are trying to pre-discredit opposition to the "executive amnesty," to make the president's action less controversial by amplifying its most extreme critics. It can only last as long as the more intense members of the GOP indulge the fantasy, and until the reality of financial showdowns with Congress–veto threats over the de-funding of the executive order–emerges next year.
Before it's here, it's on the Bloomberg Terminal.
LEARN MORE