Does Bill de Blasio's Populist Critique Apply to Hillary Clinton?
The New York mayor says Democrats will lose if they don't embrace progressive ideas.
by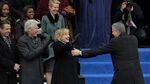 Bill de Blasio, New York City's progressive mayor, has some too-little-too-late advice for all the red-state Democrats who lost last week: embrace progressivism. But while the mayor has been lecturing the Alison Lundergan Grimes and Kay Hagans of the party, he might also want to address his good friend Hillary Clinton. 
Over the last few days de Blasio has—in a Huffington Post op-ed, a press conference and an appearance on MSNBC's "All In With Chris Hayes"—criticized red-state Democrats for not focusing on income inequality 
"These clear messages of addressing economic reality, and … being proud, progressive Democrats—folks are gonna vote for the real thing," he told Hayes. "Democrats who ran from those angles got paid back for it." That message, he said, will stay true heading into the presidential election.
Hayes countered with the most obvious weak point in the mayor's argument: "So what category is Andrew Cuomo in?" he asked. De Blasio has been attacked by his fellow liberals for embracing Cuomo's policies and candidates, but Hayes could have easily asked the same thing about Hillary Clinton. 
The red-state candidates the mayor mentioned in his op-ed—who, according to de Blasio, lost because they didn't focus on income inequality or go after Wall Street—are all candidates Hillary and Bill Clinton campaigned for over the last few months. 
De Blasio was the campaign manager for Hillary Clinton's Senate run in 2000, and has stayed close ever since. But despite that closeness, the two belong to opposing wings of the Democratic party. De Blasio is part of the Elizabeth Warren/anti-Wall Street side, and Clinton is a centrist who's been knocked for being too hawkish and too closely aligned with the wealthy. 
The Clintons know that, which is why they buddied up to de Blasio when he was sworn into office earlier this year. As Politico reported in December:
At a time when the Democratic Party is tacking to the populist left, and Sen. Elizabeth Warren is galvanizing the base by taking on Wall Street, Clinton will need to show she's in sync with the liberal grass roots should she wage another bid for the White House. There aren't many figures who could do more to shore up her progressive cred than de Blasio, who swept into office on an unabashedly populist message.

"As church people say, he can 'witness' for them," said James Carville, the longtime Democratic strategist and former Bill Clinton adviser. "He can go up, talk about her, how she stands up for people. It could be very, very helpful." 
De Blasio has been happy to witness for his former boss. This fall Politico magazine called him "The New Icon of the Left," and, in an accompanying interview, asked him if he thinks Hillary Clinton is a "true progressive." He replied:
Oh, absolutely. … Clearly, throughout the 2016 election cycle there will be a call for what we often call populism. But what I really think is [there will be] sort of a sharp truth-telling about the reality of the economy and the need for more profound answers, and I think she'll be able to speak to that.
Regardless of your stance on his assessment of her progressivism, Hillary Clinton will need to protect herself from attacks on the left if she runs in 2016. The New Yorker profiled three possible nominees who might try to do just that: former Senator Jim Webb, Maryland Governor Martin O'Malley and Independent Vermont Senator Bernie Sanders. Senator Warren, meanwhile, the populist's dream candidate, was just given a leadership position in the Senate. 
In a column for The New Republic on Wednesday, Noam Scheiber argued that, in 2016, Democrats need someone who can make "economic populism the party's centerpiece" to get white working class, minority and college educated liberal voters to turn out, both in 2016 and 2018. Clinton might manage that, he writes, or her "extensive ties to the one percent will strangle the populist project before it ever gets going" and the challengers from the left start looking pretty good.
Before it's here, it's on the Bloomberg Terminal.
LEARN MORE