Dempsey Weighs Frontline Role for U.S. Troops in Iraq
Sangwon Yoon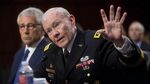 President Barack Obama's top military adviser said more U.S. troops may be needed in Iraq for a "long and difficult" fight against Islamic State, as military planners assess the shortcomings of Iraqi forces.
Army General Martin Dempsey, chairman of the Joint Chiefs of Staff, told lawmakers yesterday that more complex operations in Iraq, such as efforts to retake Mosul or secure the Syrian border, may require deploying a limited number of additional American military advisers in action with Iraqi soldiers.
"I'm not predicting at this point that I would recommend that those forces in Mosul and along the border would need to be accompanied by U.S. forces, but we're certainly considering it," Dempsey said at a hearing of the House Armed Services Committee.
His testimony reflects a debate between some military and intelligence officers and civilians and White House officials following Obama's pledge to end the U.S. war in Iraq. Analysts such as Anthony Cordesman of the Center for Strategic and International Studies in Washington, say it's "far from clear" whether Obama's current cap of 3,100 U.S. troops in Iraq will "come close to meeting the need."
While Obama has ruled out combat "boots on the ground," recent defeats make it obvious that Iraq "desperately needs forward U.S. advisers, not just joint operations centers in Baghdad and Erbil and advisers in the rear," Cordesman wrote in a report this week.
Dempsey said that any expansion of U.S. forces in Iraq is likely to be modest since he doesn't "foresee a circumstance when it would be in our interest to take this fight on ourselves with a large military contingent."
Abadi's Challenge
Dempsey and Defense Secretary Chuck Hagel told the House committee yesterday that the U.S. strategy on Islamic State depends on how well Haidar al-Abadi, the new Iraqi prime minister, can rebuild his military and bridge the country's deep sectarian and tribal divisions.
"One of the important assumptions about this campaign is that the Iraqi government does establish its intent to create a government of national unity," Dempsey said. "I can predict for you right now, if that doesn't happen, then the Iraqi security forces will not hold together."
Dempsey and Hagel testified in support of the administration's request for an additional $5.6 billion for the fight against Islamic State, as Obama prepares to ask Congress to authorize the use of military force against the Islamic extremists.
Combat Troops
Republican Representative Howard "Buck" McKeon of California, the committee chairman, said that an administration-drafted use-of-force resolution that explicitly bars U.S. ground troops would be "DOA in Congress," short for dead on arrival.
"I will not support sending our military into harm's way with their arms tied behind their backs," he said.
Hagel said Islamic State's advance in Iraq has "stalled and in some cases been reversed by Iraqi, Kurdish and tribal forces supported by U.S. and coalition airstrikes."
His testimony coincided with release of an audio message, purportedly from Abu Bakr al-Baghdadi, the leader of Islamic State, who claimed that his forces are still advancing and that U.S. efforts to defeat them will fail.
The recent campaign against his followers has been "one of the toughest so far, but it is one of the most failed ones," according to an audio message posted on social media networks. The statement follows speculation that he had been killed or injured in U.S. airstrikes last weekend that targeted a meeting of Islamic State leaders.
Broken Force
Hagel said any progress thus far "will be uneven at times" as he is aware that the assumptions underpinning the U.S. campaign in Iraq will be challenged.
Some U.S. military officers and officials have been arguing that because the bulk of Iraq's security forces are depleted, demoralized, ill-equipped and poorly led, more than the Obama-authorized 3,100 U.S. trainers, advisers and support personnel are needed to bolster the Iraqis quickly enough to defeat further Islamic State advances.
The Iraqi army, which has received billions of dollars in U.S. training and equipment over the past 10 years, disintegrated in June as Islamic State swept through mainly Sunni areas in western and northern Iraq to declare an Islamic caliphate in an area straddling the Iraq-Syria border.
Significantly more help will be needed on the front lines to advise and help lead Iraqi troops and call in air strikes when and if the Iraqi military is able to go on the offensive in Mosul and other densely populated areas, said three administration officials.
Embracing Kurds
So far, the efforts to enlist Sunni tribes in Iraq in the fight against the extremists has been stymied by doubts about whether the new Abadi government will treat the country's Sunnis and Kurds more equitably than his predecessor did.
The partial agreement on oil exports between the Baghdad government and the Kurdistan Regional Government is a significant step in the right direction, said one of the officials, but a number of Sunni tribes in Anbar province remain torn between supporting the government and aligning themselves with Islamic State.
"We don't yet know to what degree the new government of Iraq will be able to convince the Kurds and the Sunnis that it intends to have a government of national unity -- one that gives the people of Iraq confidence that they have a future other than through ISIL's radical ideology," Dempsey said, referring to the militant group by an acronym of one of its former names.
Dempsey and Hagel testified a day after Abadi removed 36 senior army officers in a major shakeup of its military that collapsed in face of Islamic State militants' offensive.
Assad Alternative
The two also used the hearing to reiterate the urgency of the Islamic State threat to the U.S. and its allies.
Hagel reported "no change" and "no different direction" in the administration's strategy for Syria. He was asked why the coalition isn't doing more to target Syrian President Bashar al-Assad, whose crackdown on peaceful protesters in March 2011 gave birth to a civil war that's fueled Islamic State's growth.
"You can change Assad today, and that's not gonna change all the dynamics quickly," Hagel said. "Who are you going to replace Assad with, and what kind of army will take on ISIL?"
The threats Islamic State poses are "right now," Hagel added. "That's why we're dealing with that component first because we must."
Rebuffing McCain
The Pentagon chief used his testimony to rebuff calls by some U.S. lawmakers, such as Republican Senator John McCain of Arizona, and anti-Islamic State coalition partners, such as Saudi Arabia and France, to arm moderate Syrian opposition fighters more quickly and take other measures such as creating a no-fly zone over part of Syria to protect civilians and rebels.
The Obama administration's assessment that the situation in Syria is secondary to defeating and degrading Islamic State in Iraq contradicts that of Robert Ford, a former U.S. ambassador to Syria.
The U.S.-led coalition's air campaign has strengthened Assad, Ford said on Nov. 12 in a talk to George Washington University students in Washington.
Ford pointed to the coalition's airstrikes on Syria's northeastern city of Deir Ezzor, where Islamic State "had the regime surrounded." That bombing has been "effective enough that the Islamic State actually withdrew," enabling the regime to reopen supply lines for its forces and attack moderate Syrian rebels located as far north as Aleppo, Ford said. "We're Assad's air force in Deir Ezzor."
"I don't know whether by intent or not, but the way we've done it has been devastating," Ford said. "I would love to be able to defend it, but I don't understand what the administration is trying to do."
Before it's here, it's on the Bloomberg Terminal.
LEARN MORE