Reid: Democrats Ready to Act in Good Faith
Kathleen Hunter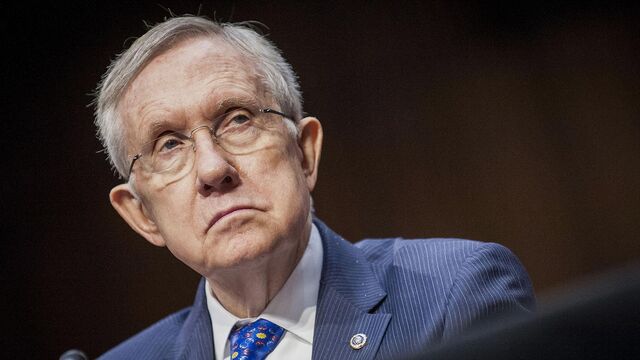 Senate Majority Leader Harry Reid said Democrats are ready to work "in good faith" with Republicans after losing the majority in the Nov. 4 election.
"We have a lot of work to do and no time to linger on the past," Reid, a Nevada Democrat who will become minority leader in January, said as the Senate opened a post-election session today. "I've been able to strike compromise with my Republican colleagues, and I'm ready to do it again."
Senate Republican leader Mitch McConnell, poised to take over as majority leader in January, said voters last week "sent a strong message to Washington: They voted for a new direction."
McConnell said Congress should focus during the lame-duck session on "essential tasks," including funding the government past Dec. 11 and providing money to curb the spread of the deadly Ebola virus in West Africa and to combat Islamic State extremists.
That will require cooperation in Congress and from President Barack Obama, said McConnell of Kentucky, adding that bipartisanship in the next Congress will hinge on the president's ability to respect the message sent by voters last week.
It "would be a big mistake" for Obama to act unilaterally on immigration, for example, McConnell said.
In the election, Republicans also bolstered their majority in the House of Representatives for the congressional session starting in January. For the current lame-duck session, Democrats keep their 55-45 control of the Senate.
Dec. 11
A Senate Democratic aide said today the chamber will seek to wrap up the current session by Dec. 11, when government funding is scheduled to lapse.
In addition to passing a spending bill, Democrats will try to confirm Obama's nominee for surgeon general, pass a defense authorization bill and vote to extend a group of tax breaks, said the aide, who sought anonymity to discuss the plans.
Obama and McConnell said after the election they would seek common ground for 2015 on matters such as trade and a revision of the U.S. tax code.
Disagreements on some issues already have surfaced. After Obama said he will use executive orders to ease U.S. immigration laws by year's end if Congress doesn't act, McConnell and House Speaker John Boehner of Ohio said such unilateral action would poison relations and make compromise on immigration impossible.
Today, McConnell criticized Obama's promise to make deeper cuts in U.S. greenhouse-gas emissions as part of an agreement in which China will set its first cap on carbon emissions.
'No Intention'
"The president continues to send signals that he has no intention of moving toward the middle," McConnell told reporters.
One Senate race remains unresolved after Republicans won eight seats held by Democrats. Democratic Senator Mary Landrieu of Louisiana faces a Dec. 6 runoff election against Republican Representative Bill Cassidy.
Senate Democrats are looking at taking a vote during the lame-duck session to force approval of TransCanada Corp.'s Keystone XL pipeline, Richard Durbin of Illinois, the second-ranking Senate Democrat, said today.
A vote in favor of the pipeline may benefit Landrieu in the runoff against Cassidy, who has an edge in polls.
Before it's here, it's on the Bloomberg Terminal.
LEARN MORE