Despite GOP Wave, Parties Fought to a Draw in Ad War
Candidates for the House and Senate, along with allied political groups, ran ads more than 1.6 million times on broadcast TV.
by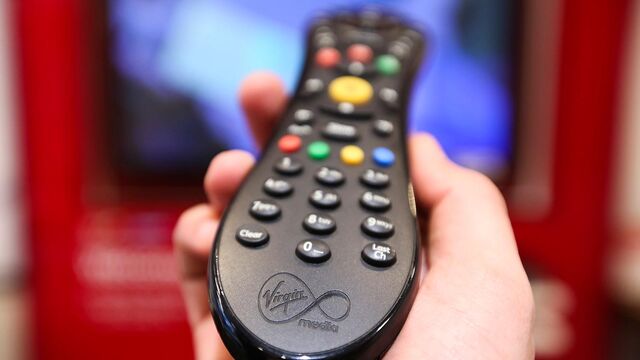 At 30 seconds a pop, it would take you about a year and a half to plow through the 1.62 million times campaign advertisements for U.S. House or Senate races aired on broadcast TV stations this election cycle.
Senate ads accounted for 1.01 million of the total spot count, underscoring the big fight for control of a chamber that shifted from a Democratic majority to a Republican majority. The gargantuan number will tick up a bit in the next few weeks as the Dec. 6 runoff in Louisiana comes into clearer focus for voters.
Here are some characteristics of campaign-ad activity during the 2014 congressional races, per Kantar Media's CMAG, which tracks advertising.
Most ads, Senate race: With 114,315 spots, North Carolina is the runaway winner. About 56 percent of the spots were in support of Democratic incumbent Kay Hagan, who aired this ad more than 3,400 times:
It wasn't enough. She lost to Republican state House Speaker Thom Tillis by fewer than 2 percentage points. In this spot Tillis ran more than 2,200 times during the final three weeks of the campaign, the Republican says Hagan is a "rubberstamp" for President Barack Obama who "does everything he wants":
North Carolina's Senate general election cost more than $114 million, by far the most of any 2014 congressional race, according to the Center for Responsive Politics.
Most ads, Senate race (part two): Factor in state population differences, and you get a different answer. Iowa's 97,477 spots ranked second to North Carolina in the raw count, though Iowa has less than one-third of North Carolina's population. Now think about the 64,544 ads in the Senate race in Alaska, which has less than one-fourth the voting-age population of Iowa.
Most ads, House race: Campaign ads ran 32,526 times in Georgia's 12th District, an area in and around Augusta where Republican Rick Allen unseated Democrat John Barrow, who was seeking a sixth term. Barrow was among nine Democrats from districts that President Barack Obama did not win in 2012, and he was lone white House Democrat from the Deep South states of Alabama, Georgia, Louisiana, Mississippi and South Carolina.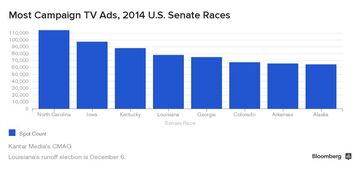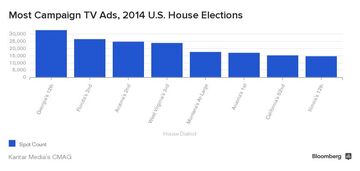 Most negative Senate race: The North Carolina Senate race scores again: 67.2 percent of the 114,315 spots in that contest were coded by CMAG as "negative" in tone. The rest were either "positive" spots or "contrast" ads that were of mixed tone. About 66.7 percent of all ads in the Arkansas Senate race were negative; in that contest, Republican Representative Tom Cotton beat Democratic incumbent Mark Pryor.
Top sponsor: The Democratic Congressional Campaign Committee, the political arm of House Democrats, paid for ads to run 64,210 times, topping the 59,201 spots by the Democratic Senatorial Campaign Committee. The National Republican Congressional Committee was third, with 55,960 ads, followed by the pro-Democratic super-PAC Senate Majority PAC, which paid for spots to run 50,367 times.
First ad: The first ad CMAG captured was from Kentucky Republican Mitch McConnell's campaign, which went on the air March 14, 2013, or 600 days before Election Day. The spot featured his wife, former U.S. Labor Secretary Elaine Chao, responding to attacks from liberal groups. McConnell was easily re-elected and is in line to become Senate majority leader in the next Congress.
Partisan parity: The breakdown by political party of the 1.62 million ads is 50.4 percent Republican and 48.3 Democratic, with most of the remainder coming from independent Greg Orman in the Kansas Senate race. So, pretty much even.
Anti-Obama election: With President Obama's approval rating in the low 40s at the midpoint of his second term, Republicans sought to tie Democratic incumbents to the White House. A 52 percent majority of all Republican ads carried some anti-Obama message, according to CMAG data. Their ads would often note how frequently Democratic senators sided with Obama's stated position on roll-call votes.
Some Democrats in Republican-leaning constituencies, like re-elected Minnesota congressman Collin Peterson, occasionally aired ads playing up their policy differences with the president:
Veterans: A scandal involving wait times and poor medical service at Department of Veterans Affairs facilities spurred campaigns to air more ads featuring veterans. Ads highlighting veterans' affairs ran more than 132,000 times in House and Senate races, including more than 15,000 times in Iowa, where Republican Joni Ernst was elected as the first female military veteran in the history of the Senate.
This spot, airing more than 4,000 times on Iowa televisions and attacking Democratic Senate nominee Bruce Braley, was paid for by Concerned Veterans for America, a nonprofit 501(c)(4) group:
Braley's response included this ad, which aired more than 1,300 times during the first two weeks of October.
Veterans' benefits was the "only new issue this cycle to break into a most-used top 10 that otherwise includes jobs, government spending, Social Security and Medicare, Obamacare, abortion and other old saws," Elizabeth Wilner, a Kantar Media senior vice president, wrote last month. "It took tragedy to make it happen, and prominence in political advertising is a highly dubious honor, but widespread campaign-trail recognition of the needs of veterans feels long overdue," she wrote.
Before it's here, it's on the Bloomberg Terminal.
LEARN MORE