Why Obama Could Act Alone on Immigration Despite Republican Threats
One politician's nihilism is another's golden opportunity.
by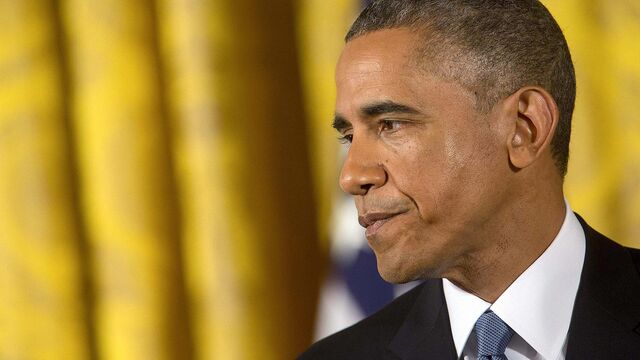 There was no single day or singular event that crushed Florida Representative Mario Diaz-Balart's hopes for immigration reform. Throughout 2014, he was talking to the White House, talking to his fellow reformers in the House, talking to reporters, and seeing the sun over the horizon. By February, his reformers had a bill. By June, they had "a majority." Even when then-Majority Leader Eric Cantor was unexpectedly primaried by an immigration reform foe, Diaz-Balart thought reform was possible.
"We came so close that I thought we were gonna get it done," says Diaz-Balart. "It was alive, it died. It was alive, it died. We came so close in the House. Then, all of a sudden, we had the kids from Central America crossing the border, and we couldn't get it done."
It was a fumble at the one-yard line. Diaz-Balart had watched his "gang of eight" reform group shrink until its members could be counted on one hand. They'd managed to come up with a bill anyway, yet they never introduced it. The White House announced that it would delay any executive action on immigration until after the elections. "When the unaccompanied children crisis came," says the Florida congressman, "the issue itself became pretty much toxic with the American people, and the prospect of moving anything forward become impossible."
And that's why the Obama White House looks ready to ignore Congress and use an executive order to effectively legalize many of immigrants currently working in the United States. It spent 2013 and 2014 waiting for John Boehner's House to move a bill. It watched as Boehner first told his caucus that an immigration bill was necessary to stave off an executive action, then that it was the president's threat of executive action that deprived Republicans of "confidence" in "his willingness to implement an immigration law."
That's left the White House skeptical of the idea that acting in December could "poison the well," as both Boehner and South Carolina Senator Lindsey Graham have put it. At an early post-election meeting, the president reportedly shut down Vice President Joe Biden over the idea that the Republicans could act on immigration if they got some time. The incoming Congress is no caravan of reformers. Pro-reform senators in Iowa, North Carolina, and Arkansas are being replaced by Republicans who attacked the 2013 Senate bill as "amnesty," even when John McCain was standing next to them.
"All this talk of poisoning the well is B.S., as far as I'm concerned," says Kentucky Reppresentative John Yarmuth, a Democratic member of Diaz-Balart's reform group. "I think the president oughta do it. All of the blustering and brinkmanship over this—I just don't see it mattering. I'm convinced that Boehner wants to do reform, and that he understands how important it is to the Republicans' long-term prospects, but he doesn't have the courage or strength or whatever it is to get his own people in line."
Plenty of Democrats share that nihilism. They spent too much of 2014 hearing about potential breakthroughs, or piecemeal house bills, with no result. Not even Diaz-Balart can explain how a new Congress would act on immigration if given a few months to work it out.
"There's no guarantee that we can get it done," says Diaz-Balart. "However, there's pretty much a guarantee we can't get it done if he does something by executive order. If he does that, when he himself has stated he does not have legal authority, that makes it almost impossible for Congress to act."
It's true that the president has ruled out an executive order. Iowa Reppresentative Steve King recalls the date from memory: March 28, 2011. At a "town hall" sponsored by Univision, Obama shooed off the idea of executive action because "temporary protective status historically has been used for special circumstances." Republicans have that quote, and polling that found the public heavily opposed to "executive amnesty." They just don't know if it would overwhelm the potential benefit, as Democrats see it, of waging a fight against deportation, with the Republicans cast as villains.
"Democrats, for generations have been about identity politics," says King. "Lyndon Johnson, when he signed the Civil Rights Act, had racial intentions. I've watched as African-Americans subsequently gave 90 percent of their votes, or more, to Democrats. They see another opportunity for political gain here, by drawing lines between Americans."
That's sort of the point. Democrats gained nothing from waiting for a potential compromise. Their strongest moment in the last Congress had nothing to do with compromise. It came when a group of House Republicans refused to fund the Affordable Care Act, kicking off a two-week government shutdown that temporarily collapsed the GOP brand. Democrats imagine that a fight over deportations would play out the same way, with one party building strength with Latinos and the other ready to throw out the congressional schedule to stop the executive order.
"If the president does what he says he's willing to do," says King, "Congress should call an immediate emergency special session to deal with such an act. It can't be allowed to cook over Christmas. I'm prepared to go directly to Washington to stop this. It would suspend any effectiveness of the last two years of the Obama presidency."
Democrats would call that bluff. It would be a welcome change from the endless compromise waiting room. "All the drop-off that there apparently was with Latino voters this year would be reversed," says Yarmuth. "The Latino community would be energized."
But Texas Representative Joe Barton, who supported the idea of piecemeal border security bills in the current Congress, doesn't think Democrats understood the politics. "Ironically with a strengthened Republican majority in the House, with a majority in the Senate, you've got a much better chance to see something signed," says Barton. That wouldn't be the president's ideal bill; it would allow some immigrants to "become legal residents if they pass all the tests and stuff," but fall short of "amnesty." If the president acted unilaterally, he'd get none of that, and trade it for something that would "last three months," until the new Republican Congress de-funded it.
 "I don't think he will do that," says Barton. "I hope he doesn't. All Cain'll break lose, it won't stand. If we can't stop it in this Congress, we'll stop it in the next Congress."
Before then, there'd come a battle that Democrats were better prepared for than yet another cycle of waiting and punting. In another interview on Monday, Barton raised the possibility of impeaching the president if he pulled an "executive amnesty." King refused to use "that word," but he did recall the days he spent in the gallery, as a citizen, watching the Senate trial of Bill Clinton.
Before it's here, it's on the Bloomberg Terminal.
LEARN MORE