The Phases of Obama's Iraq War
The president says the U.S. has entered a "new phase" of its operations in Iraq. Here's how the mission has evolved.
by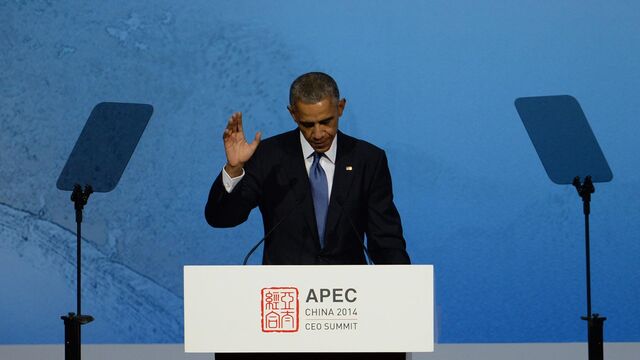 President Barack Obama says the U.S.-led coalition assembled to counter the rise of the Islamic State in Iraq has entered a "new phase," raising the question of what that phase actually looks like.
A review of Obama's comments and reports from on the ground in Iraq show that there hasn't been any kind of dramatic shift in how the U.S. and its allies are operating in the region. But Obama's comments do underscore the evolution of a mission that started with strict parameters on how the U.S. would conduct air strikes and has evolved into a mission driven by more than 3,000 U.S. troops and a significant push to train, equip and provide intelligence capability for Iraqi security forces that all but dissolved in the face of IS advances this summer. 
Here's a look, through Obama's own words, at how the U.S. operation has changed since the nation expanded its footprint in Iraq for the first time since combat operations came to a conclusion in 2011. 
June 19: U.S. forces sent back to Iraq
In the first of a series of moves over the summer, Obama announces the U.S. will send military assets to the region. 
We have had advisors in Iraq through our embassy, and we're prepared to send a small number of additional American military advisors—up to 300—to assess how we can best train, advise, and support Iraqi security forces going forward.

American forces will not be returning to combat in Iraq, but we will help Iraqis as they take the fight to terrorists who threaten the Iraqi people, the region, and American interests as well. 
Aug. 6: Targeted strikes and humanitarian aid
Obama authorizes the first U.S. strikes to protect American personnel in Irbil and provide humanitarian support and aid drops to the trapped religious minority known as Yazidis atop Mount Sinjar.
Today I authorized two operations in Iraq—targeted airstrikes to protect our American personnel, and a humanitarian effort to help save thousands of Iraqi civilians who are trapped on a mountain without food and water and facing almost certain death. 
Aug. 9: Coalition-building and a broader strategy
The formation of the international coalition that would become the foundation of U.S.-led operations in the region begins with pledges of support from France and the UK. Obama also says U.S. and allies will begin to squeeze IS militant safe havens in the country and provide military assistance to Kurdish forces.
Now, even as we deal with these immediate situations, we continue to pursue a broader strategy in Iraq. We will protect our American citizens in Iraq, whether they're diplomats, civilians or military. If these terrorists threaten our facilities or our personnel, we will take action to protect our people. We will continue to provide military assistance and advice to the Iraqi government and Kurdish forces as they battle these terrorists, so that the terrorists cannot establish a permanent safe haven.  
Aug. 11: Formation of a new Iraqi government
Obama administration officials made a strong push to help oust Iraqi Prime Minister Nouri al Maliki and ease the transition to new Prime Minister Haider al-Abadi. The formation of a new government opens the door to further U.S. involvement. 
This new Iraqi leadership has a difficult task. It has to regain the confidence of its citizens by governing inclusively and by taking steps to demonstrate its resolve. The United States stands ready to support a government that addresses the needs and grievances of all Iraqi people. We are also ready to work with other countries in the region to deal with the humanitarian crisis and counterterrorism challenge in Iraq. Mobilizing that support will be easier once this new government is in place. 
Aug. 28: Regional partners
Obama makes clear that regional partners will be central to U.S. efforts to counter IS and deploys administration officials across the Middle East to being securing commitments for the fight. 
Any successful strategy, though, also needs strong regional partners. I'm encouraged so far that countries in the region—countries that don't always agree on many things—increasingly recognize the primacy of the threat that ISIL poses to all of them. And I've asked Secretary Kerry to travel to the region to continue to build the coalition that's needed to meet this threat. As I've said, rooting out a cancer like ISIL will not be quick or easy, but I'm confident that we can—and we will—working closely with our allies and our partners. 
Sept. 10: A strategy, in primetime
In a primetime address to the nation, Obama lays out a four-pronged U.S. strategy to "degrade and destroy" the Islamic State. The plans included extensive air strikes, as well as the training and equipping of Syrian rebels deemed moderate by the U.S.
Tonight, with a new Iraqi government in place, and following consultations with allies abroad and Congress at home, I can announce that America will lead a broad coalition to roll back this terrorist threat.

Our objective is clear: We will degrade, and ultimately destroy, ISIL through a comprehensive and sustained counterterrorism strategy.
Sept. 23: Airstrikes in Syria begin
During Obama's broad strategy speech in August, he opened the door for the first time to air strikes in Syria. While hamstrung by a lack of intelligence due to no U.S. forces on the ground, the U.S. began the first of what would be dozens of strikes in the country ripped apart by civil war.
I made clear that as part of this campaign the United States would take action against targets in both Iraq and Syria so that these terrorists can't find safe haven anywhere. I also made clear that America would act as part of a broad coalition. And that's exactly what we've done.
Nov. 10: The next phase
Just a few days after announcing another 1,500 U.S. troops would be sent to Iraq to train and assist the country's defense forces, Obama tells reporters in Beijing the U.S.-led coalition strategy has moved into a new phase: pushing the Iraqis to go on offense. 
The situation with respect to Iraqi security forces has stabilized, although the number of effective units is significantly smaller than it needs to be. So the next phase is for us to train and assist Iraqi security forces so that they can begin to build up and go on offense. We can provide close air support, we can provide logistics and intelligence, but ultimately they're the ones who are going to have to fight to push ISIL out of some of these areas that they've taken over. And in order for us to do that, we're going to have to have more trainers on the ground, and that is the reason why I authorized this additional number of U.S. troops.
Many of the questions that were raised back in June still sit unanswered: How long will the operations take? How will U.S. troops on the ground to advise and assist stay out of combat operations? Will the Iraq security forces ever be able to carry their own weight? Obama administration officials acknowledge that the strategy is still far from a sure thing, especially the Syria component. 
For Obama, it's an evolving strategy, one that has brought the U.S. into deeper engagement each step of the way. 
Before it's here, it's on the Bloomberg Terminal.
LEARN MORE