The 2016 Congressional Elections Are Already Here
No sooner does the last election cycle end than a new one begins.
by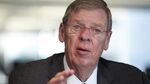 Welcome to 2016.
The midterm elections have been in the books just a week, and there's already ample attention on the next election cycle—and we're not even talking about the jockeying for the White House. Here are just five of the latest developments in the restarting race for the House and Senate:
1. Peach State planning
Senator Johnny Isakson, a Georgia Republican, will seek re-election. This is good news for Republicans in a state where Democrat Michelle Nunn lost by eight percentage points in last week's Senate race, a respectable showing in a pro-Republican midterm in a state where President Barack Obama also lost by eight points in 2012. (Look to Georgia or Arizona before Texas as the next major Republican-leaning state to become more politically competitive at the presidential level.)
2. Pennsylvania rematch
In Pennsylvania, Republican Senator Pat Toomey and Democrat Joe Sestak have been preparing for months for a potential rematch of their close 2010 contest. Toomey raised more than $673,000 in the third quarter of this year, more than two years before the November 2016 general election, and began October with $5.4 million in his campaign account. After raising money for more than a year to "test the waters," Sestak filed a statement of candidacy in September and already has $1.3 million in campaign cash-on-hand.
Toomey is one of seven Republican senators up for re-election in 2016 from states Obama won in 2012:

3. National war games
Speaking of Republican senators facing potentially serious opposition in 2016, they met with the National Republican Senatorial Committee months ago to plot campaign strategy and review budgets. "I can already tell you that, at the NRSC, we've already met with that class, those incumbents, and we've already started putting together their battle plan," Rob Collins, the committee's executive director, said Nov. 6 at a post-election conference sponsored by CQ Roll Call.
4. A pledge upheld
Also in Pennsylvania, Republican Representative Mike Fitzpatrick has confirmed the fourth House term he won last week will be his last. Many members of Congress have reneged on term-limits pledges, so it's noteworthy that Fitzpatrick intends to keep the promise he made in 2010. Fitzpatrick won 62 percent of the vote last week, a showing that obscures the two-party competitiveness of a district that takes in all of Bucks County and part of Montgomery County near Philadelphia.
5. Brewing Minnesota battle
Republican state Representative Tony Cornish has expressed interest in challenging Democratic Representative Tim Walz of Minnesota, who avoided top-tier Republican opposition this year in a competitive district that connects the South Dakota and Wisconsin borders.  
Before it's here, it's on the Bloomberg Terminal.
LEARN MORE