Senate Winners Aided by $127 Million from Dark Money Groups
Roughly 71 percent of the outside spending for the 10 winning candidates came from groups that don't disclose contributors.
by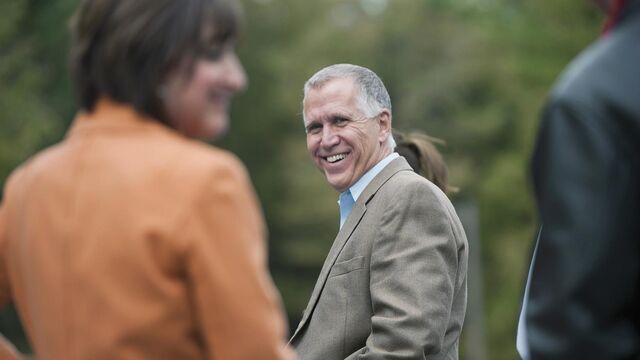 Winning U.S. Senate candidates got a nice boost from groups that don't fully disclose their contributors.
In 10 key Senate contests, the winners benefited from $127 million in outside help from such organizations, according to a report from the Brennan Center for Justice at New York University School of Law.
About 71 percent of the outside spending (excluding national party committees like the DSCC and NRSC) benefiting the 10 winning candidates came from these groups, which are frequently labeled as "dark money" groups by advocates of revising campaign finance laws and of more disclosure in reporting political donations. These groups have resisted proposed regulations on their activity as an infringement of their First Amendment free-speech rights.
"The victors will take their seats likely feeling grateful to interests that are hidden from their constituents and the public," the report said.
North Carolina Republican Thom Tillis, who unseated Democratic incumbent Kay Hagan in a race that helped secure a Senate majority for Republicans, received $22.9 million in outside support from groups that don't fully disclose, the report said. Tillis's outside help included $5.6 million in spending from the U.S. Chamber of Commerce (a 501c6) and $4.9 million from Crossroads Grassroots Policy Strategies (a 501c4 issues group promoting limited government).
The Brennan Center's report refers to "dark money" as "spending by groups that hide the identities of some of all of their donors." That definition sweeps in some super-PACs that disclose donors while receiving some portion of their funds from groups that don't. Unlike 501cs, super-PACs generally file regular disclosure reports with the Federal Election Commission, and they're permitted to raise funds in unlimited amounts to fund independent TV and radio ads that directly advocate for the election or defeat of candidates.
So Freedom Partners Action Fund, a super-PAC that spent $1.9 million to help Tillis, is considered a "dark money" group because it's received some of its funds from its 501c6 arm, Freedom Partners Chamber of Commerce. Here's a list of the super-PAC's donors.
Outside political spending has intensified after a series of court decisions and regulatory actions in the past few years, including the 2010 Supreme Court ruling Citizens United removing restrictions on corporate and union independent political spending.
Read the Brennan Center's report here.
Before it's here, it's on the Bloomberg Terminal.
LEARN MORE