Source: Senate Democrats Consider Keystone Vote to Help Mary Landrieu
Kathleen Hunter and Jim Snyder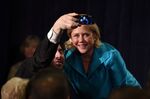 Senate Democrats are looking at taking a vote in the lame-duck session starting today to force approval of TransCanada Corp.'s Keystone XL pipeline, in an effort to bolster Louisiana Democrat Mary Landrieu's re-election chances, a party aide said.
The purpose of the vote would be symbolic: To highlight Landrieu's support for the pipeline and her influence on energy issues in Washington -- a centerpiece of her campaign. A vote in favor of the pipeline may benefit Landrieu in her Dec. 6 runoff election, in which she faces Republican Representative Bill Cassidy.
Similar measures have failed to advance in the Senate this year and Democratic leaders who now run the chamber will have trouble mustering the votes for passage now. President Barack Obama could veto the measure.
The Senate Democratic aide, who requested anonymity to discuss the plans, said specific language for a proposal hadn't been determined.
Landrieu, 58, chairwoman of the Energy and Natural Resources Committee, in her campaign has sought to distance herself from Obama on energy issues, including his delay in approving the pipeline.
Majority Vote
Landrieu will face Cassidy, 57, in a run-off because neither won a majority of votes in the Nov. 4 election. Polls show Cassidy with an edge in a head-to-head matchup with Landrieu.
Political analysts said they doubted a vote on Keystone would provide much of a boost in Louisiana.
"The people she needs to turn out for her in the runoff will not be influenced by a token vote by a few of her colleagues," said Ross Baker, political science professor at Rutgers University in New Brunswick, New Jersey.
Even if Landrieu is re-elected, she will lose her position as chairwoman of the energy committee when Republicans take control of the Senate in January.
Republicans won at least eight seats held by Democrats, giving them the majority for the next session of Congress. Democratic Senator Mark Begich of Alaska was defeated by Republican Dan Sullivan, the Associated Press said late yesterday after absentee ballots were counted.
Senate Republican leader Mitch McConnell of Kentucky and House Speaker John Boehner, an Ohio Republican, have said Keystone approval will be a top legislative priority in 2015.
Override Votes
Starting in January, there may be enough Keystone backers in both chambers of Congress to pass the measure. Supporters probably would fall short of the 67 Senate votes needed to overcome a veto by Obama.
It takes a two-thirds vote in each chamber to override a presidential veto.
Landrieu, along with Senator Joe Manchin, a West Virginia Democrat, co-authored legislation that would let Calgary-based TransCanada build and operate the $8 billion Canada-to-U.S. oil pipeline. Landrieu's panel approved the measure June 18.
Although Democrats have already lost their Senate majority, they want to retain as many seats as possible, in part to aid their effort to regain control in two years. Republicans will be defending at least 22 seats in 2016, compared with nine for Democrats.
A bipartisan group of lawmakers, including Landrieu, has been trying to force a vote by the Senate to approve the pipeline. Senate Majority Leader Harry Reid, a Nevada Democrat who sets the chamber's agenda under Democratic control, has resisted bypassing the Obama administration, which is deciding whether to allow the project to move forward.
House Majority
Earlier this year, pipeline supporters said they had backing from 56 senators, four shy of the 60 needed to prevent it from being blocked. They included all 45 Senate Republicans. The House has passed similar measures by broad majorities.
Allowing senators to vote to circumvent an administration study and approve the pipeline could antagonize the White House, and may draw an Obama veto.
In his news conference following the election, Obama said the independent process evaluating Keystone led by the State Department should "play out."
Press Secretary Josh Earnest said Nov. 6 that the White House would consider legislation approving Keystone, though demurred on a question of whether a bill would prompt a veto threat.
One thing is more clear: Environmental groups that spent record amounts of money in a losing effort to protect the Democratic Senate majority likely would oppose any vote on a project they consider a threat to the climate.
The pipeline has been under review by the State Department for six years. The agency has jurisdiction because the project would cross an international border.
Keystone XL would transport Alberta's heavy crude to refineries in the U.S. Gulf Coast. Environmental groups say it would encourage development of the carbon-heavy oil sands. Supporters say it would create thousands of jobs and increase North American energy security.
Before it's here, it's on the Bloomberg Terminal.
LEARN MORE