Poll: Americans Want GOP Congress, Not Obama, to Set National Agenda
The ball, as the saying goes, is now solidly in the GOP's court.
by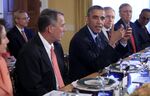 Times have changed. A new Gallup poll finds that a large majority of Americans would like the Republican-controlled Congress, rather than President Obama, to set the direction for the country in the coming year, a marked change from 2012, when a slim majority said they preferred for Obama to guide the agenda. 
"Who do you want to have more influence over the direction the nation takes in the next year—Barack Obama or the Republicans in Congress?" Gallup asked 828 U.S. adults. 
Fifty-three percent of those surveyed said they wanted Republicans in Congress to have the greater influence, 36 percent said Obama, and 8 percent, well, didn't seem to care, answering "same/neither."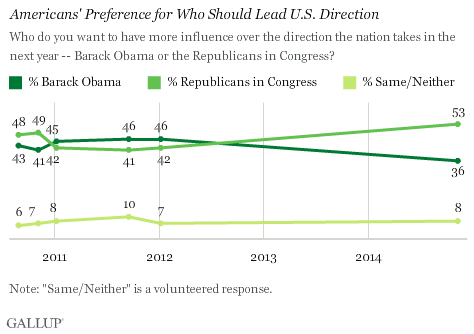 In 2012, by contrast, 46 percent of Americans said they wanted Obama to have more influence. 
While there's much for the GOP to crow about in the survey, Gallup also found that 44 percent of Americans believed Republican control of Congress would not make the country any better off. Thirty-six percent said a GOP Congress would make the country "better off," 19 percent said it would leave the country "worse off," and two percent had no opinion. 
Another Gallup poll taken just two weeks before the midterm elections found that just 14 percent of Americans approved of the way Congress was doing its job. 
Before it's here, it's on the Bloomberg Terminal.
LEARN MORE