Will Obama's Net Neutrality Gambit Work?
The president is searching for victories after some devastating defeats at the polls.
by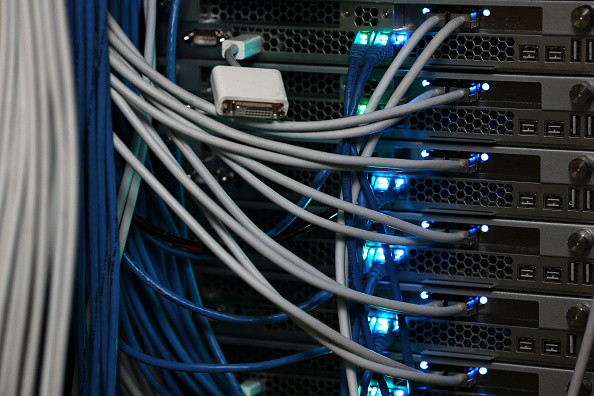 President Barack Obama isn't waiting to see how a new Republican Senate majority will govern. He's taking the fight to them by seizing on issues that are political winners in the wake of a wave of electoral losses last week.
The most recent example came Monday when Obama infuriated Republicans (and at least one of top fundraiser) by calling on the FCC to support net neutrality, taking a strong position that comes with little political risk. Many in his party support it, it gives him some common ground with Silicon Valley and puts him on the opposite side of Comcast, one of America's least favorite cable companies, whose customer service problems were crystallized in July by a recording of a call-center employee refusing a request to disconnect service.
And just to sum up his aggressive approach, Obama followed the net neutrality statement with a fundraising appeal to his grassroots supporters asking volunteers to "finish what you started" on minimum wage, immigration and climate change. With or without help from Congress, I'm not done making real change for the American people," Obama wrote in the letter sent by Organizing for America.
The fundraising letter linked to a webpage that included a photo of Obama with his fists raised like a boxer. 
All this comes as the president ostensibly wants to work with politically emboldened Republicans. Just three days earlier, Obama welcomed congressional leaders to the White House to dine on sea bass and a pumpkin dessert while discussing "areas of common ground where we can work together."
In the past week, Obama has nearly doubled the number of U.S. troops in Iraq and left Senate Republicans mostly muted with his nomination of Loretta Lynch as his next attorney general. Lynch would be the first black woman to run the Justice Department. In the coming days, Obama is also expected to outline new executive actions on immigration, which House Speaker John Boehner has said is the political equivalent of playing with matches, but would sit well with many Hispanic voters, the nation's fastest growing voter bloc.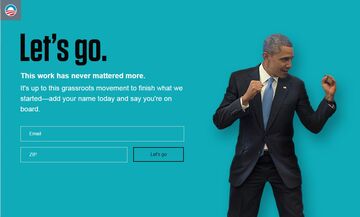 "Based on what we've seen from President Obama, I don't find it especially promising that the White House is going to try to find common ground," U.S. Senator Ron Johnson, a Wisconsin Republican, said in an interview before Obama released a statement on net neutrality. After the statement, cable company prices dropped and Republicans tore into the president.
"A terrible idea," said the expected Senate Majority Leader Mitch McConnell. House Speaker John Boehner said Obama was supporting a "textbook example of the kind of Washington regulations that destroy innovation and entrepreneurship." Senator Marco Rubio, a potential 2016 presidential candidate, said it "sends the wrong message to international stakeholders that look to the United States for leadership in Internet governance."
Obama on Monday called for "the strongest possible rules to protect net neutrality," which generally means that everything on the Internet should be equally accessible. Defining that broad concept has real implications, and sparked a high-priced lobbying battle in Washington. The U.S. Federal Communications Commission has proposed letting providers offer better technology to content companies, like Netflix, mainly for faster delivery of video. As Bloomberg's Sarah Rabil explains, approving the rules would mean that for the first time some Internet content could get preferential treatment based on how much a publisher pays, instead of on whether it improves a network's technical efficiency.
Critics said that would give deep-pocketed companies an unfair advantage over upstarts, stifling the development of a new generation of Googles and Facebooks, costing customers more and opening the door to corporate censorship. .... Supporters of the FCC plan say it would simply create a "fast lane," an improved alternate Internet where equals compete against equals.
By opposing cable/Internet providers, Obama is siding with tech companies. As Philip Bump writes in the Washington Post, the move helps repair relationships frayed by the National Security Agency's spying revelations. "But an embrace of net neutrality --backed by big companies that don't want to have to pay more to push out their content -- is a big win for for tech. It could use one; its marquee midterm race went poorly."
Still, Obama's position comes with some political awkwardness. Comcast Executive Vice President David Cohen, who attended a White House state dinner this year, funneled at least $500,000 to Obama's re-election bid in 2012. "The Internet has not just appeared by accident or gift—it has been built by companies like ours investing and building networks and infrastructure," Cohen said in a statement on Monday. "The policy the White House is encouraging would jeopardize this engine for job creation and investment as well as the innovation cycle that the Internet has generated."
Before it's here, it's on the Bloomberg Terminal.
LEARN MORE