Obama, Putin Meet Briefly at Asia-Pacific Summit
Roger Runningen and Ilya Arkhipov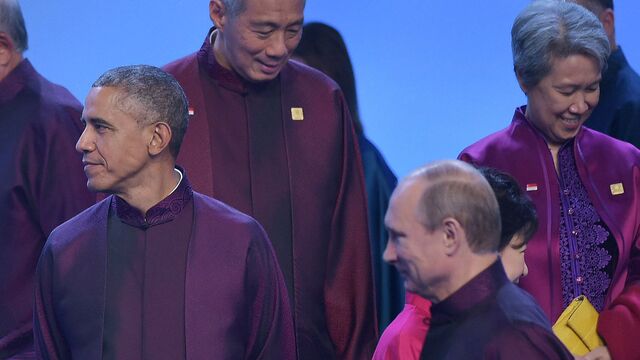 U.S. President Barack Obama and Russian President Vladimir Putin had a brief informal conversation during a summit today in Beijing, officials from both governments said.
The leaders "didn't have any discussion," Dmitry Peskov, Putin's spokesman, told reporters at the Asia-Pacific Economic Cooperation summit. "They greeted each other. They spoke a few phrases to each other" but "there were no talks," Peskov said.
Obama and Putin last met in June in France at ceremonies to mark the anniversary of the D-Day invasion during World War II. Remarks at the time were brief and didn't cover substantial issues as relations between the two nations worsened amid strains over Russia's annexation of the Ukrainian region of Crimea.
The brief encounter in Beijing didn't allow time for them to discuss any issues, according to an e-mail from an Obama administration official who wasn't authorized to discuss the meeting publicly. Interfax, a Russian news service citing sources it didn't name, had said the two leaders spoke for as long as five minutes as they waited for a photo session for summit participants at the Water Cube aquatic center in the Beijing Olympic Village. Peskov disputed the report.
Matching Outfits
Dancing crowds in traditional costumes greeted limousines carrying world leaders to the venue along a road that was lit bright red, television pictures showed. Putin and Obama wore matching burgundy-colored tunics as they were greeted individually by Chinese President Xi Jinping, who was also dressed in the same Mao-style jacket.
Putin nodded in agreement when Xi gestured that their outfits matched. Others at the photo session also dressed either in burgundy or in turquoise tunics, part of a tradition at APEC summits for leaders to wear costumes chosen by the host nation.
International Monetary Fund Managing Director Christine Lagarde apologized for arriving late to her meeting with Putin, explaining that police had stopped her motorcade on the way.
"Chinese police clearly did not understand that I was coming to visit with you, so they tried to hold me back," Lagarde said.
Putin said the officers were "just doing their job," prompting Lagarde to reply: "I know, I had to show my name."
Assistance Appeal
Tensions have intensified since Russian-backed rebels in eastern Ukraine held elections last week. The government in Kiev says the vote contravenes a Sept. 5 cease-fire pact, a position that's shared by the U.S. and EU, while Russia has said it respects the ballots.
In an emotional meeting with Malaysian Prime Minister Najib Razak at the summit, Putin reiterated Russia's condolences to the families of those killed in the MH17 air crash in eastern Ukraine in July. Najib said a cease-fire was essential to allow investigators access to the crash site in rebel-held territory, but the truce "doesn't appear to be respected by either side."
"We hope we can count on you to help us to conclude what happened with flight MH17," Najib told Putin. The Russian president replied that "we feel together with you" and he blamed Ukraine for the continued violence, saying that separatist militias "do not shoot at themselves."
White House National Security Adviser Susan Rice said in Washington on Nov. 7 that, while there were no U.S. plans for a formal meeting between Obama and Putin, "I wouldn't be at all surprised if they had some informal communication."
Obama and Putin were also scheduled to attend the G-20 summit of developed and developing nations in Brisbane, Australia, later this week.
Before it's here, it's on the Bloomberg Terminal.
LEARN MORE