What Congress Does Now May Make Things Easier for the GOP in 2015
Richard Rubin and Heidi Przybyla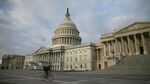 For Republicans, November and December are all about January and February.
The party enters the post-election session of Congress this week on the precipice of power, with the U.S. Senate set to flip into their hands in January 2015. One big goal: Clear the agenda of troublesome items quickly before they take control.
That includes extending government financing, reviving lapsed tax breaks, funding the fight against Ebola and providing money for the U.S. fight against Islamic State. It's tricky, because Democrats are still in charge of the Senate through December. So Republicans need to find a way to clear pressing business without negotiating too much away.
If they succeed, Republicans in January can focus on their priorities: approving the Keystone XL pipeline, striking at President Barack Obama's health-care law and blocking environmental regulations.
"The most important thing they can do in terms of setting up the next two years well is to try to clear the decks of as much of the underbrush as can be achieved," said Rohit Kumar, a former top aide to Senate Republican leader Mitch McConnell.
The lame-duck legislative period that starts Nov. 12 will represent a test for the dealmaking skills of House Speaker John Boehner, McConnell and their followers, who have a pent-up desire to set policy on their own terms.
Budget Deadlines
The Republican leaders will try to push tax and budget deadlines as far into the future as they can. At the same time, they don't want to give in too much to Democrats now, because they'll be able to get a more favorable outcome next year when they control both chambers of Congress.
The goal for Republicans is to get control of the 2015 calendar, said Kumar, who helped negotiate tax deals with the administration during the 2010 and 2012 lame-duck sessions. That means trying to "avoid cliffs or other action-forcing events that force their hand at a time and a place that may not be of their choosing," Kumar said.
Republicans gained at least seven Senate seats in the Nov. 4 election, turning a 55-45 Democratic majority into a Republican-led chamber for the first time in eight years. They are ahead in the Alaska Senate race and favored to win another seat in Louisiana in a December runoff.
House Republicans expanded their majority and will control at least 245 seats in the 435-seat chamber. Uncalled contests could give them their biggest majority since the Congress that was elected in 1928.
Lame-Duck Sessions
Lawmakers have significant work to do before the new Congress takes office in early January -- though nothing like the expiring income tax cuts that dominated lame-duck sessions in 2010 and 2012.
The biggest deadline comes on Dec. 11, when government funding is scheduled to expire.
Leaders in both parties say they want to avoid stopgap spending measures and return to the past practice of approving annual spending legislation that allows them to set agencies' policies. To do so, they must try to complete a broad spending bill, known as an omnibus, in the lame-duck session.
"The overarching goal from all four corners is to do an omnibus," said Rob Smith, a former Republican legislative director in the House.
The current plan is for lawmakers to vote on an omnibus bill during the week of Dec. 8 before the Dec. 11 deadline, said Jennifer Hing, a spokeswoman for the House Appropriations Committee.
Conflicting Demands
For that to happen, Boehner will have to reconcile conflicting demands within his party to adhere to already agreed-upon spending cuts and to boost Pentagon funding for the fight against Islamic State.
Democrats won't allow Republicans to ease defense spending reductions -- enacted as part of the across-the-board sequestration cuts -- without commensurate relief for domestic programs that were equally cut.
On top of all that is Obama's $6.2 billion emergency request to combat the spread of Ebola in West Africa.
Boehner and McConnell could be pushed into compromises with Democrats, especially if they want a deal to pass the Senate that's still controlled by Democrats.
Some in Boehner's caucus are warning against that.
"My fear is they'll try to do something in the lame duck," Representative Tim Huelskamp, a Kansas Republican who opposes easing spending cuts and has been critical of Boehner's leadership, said in an interview. "Let's attack before the reinforcements arrive. There's a real fear that some folks, as they're going out the door, will say: Let's make a deal."
Work Permits
A group of House Republicans, led by Matt Salmon of Arizona, is urging the party to include a provision in any spending bill that would prohibit Obama from using money to give work permits and green cards to undocumented immigrants.
Still, other Democrats and Republicans see it in their interest to get some issues out of the way before 2015.
Republicans will be pressed to demonstrate that they can use their new majority to govern and pass legislation benefiting voters. They can't do that if the calendar is crowded with battles over short-term funding measures.
For their part, Democrats tend to support longer-term measures, called omnibus bills, so they can use the floor to highlight policy alternatives to Republican prescriptions for unemployment and the minimum wage.
The Obama administration wants the spending deadline and the Ebola request to be handled "without drama," White House aide Dan Pfeiffer said in an interview with Bloomberg reporters and editors in Washington on Nov. 7.
'Constructive Way'
"We have some things to do now that are not inherently political," Pfeiffer said. "That will send a signal to the country that we can begin working together in a more constructive way than we have in recent years, and hopefully build some foundations of trust" for 2015.
Also on the lame-duck agenda is a set of lapsed tax breaks, including the research and development tax credit.
The breaks expired at the end of 2013 and lawmakers have been deadlocked on how to address them. House Republicans have voted to make some of the breaks permanent, including the research credit, and they haven't taken a stance on others, such as the production tax credit for wind energy.
Senate Democrats want to revive almost all of the breaks and extend them through 2015. The renewable energy breaks in particular are a priority for Democrats, including Majority Leader Harry Reid of Nevada.
Through 2014
Some House Republicans have discussed a measure that would extend the breaks only through 2014, requiring Congress to return to the issue again next year.
Other issues on tap for the lame-duck session include considering an expiring law that prevents state and local governments from taxing Internet access and authority for the administration to train Syrian rebels.
Senate Democrats -- who changed the chamber's rules to allow presidential nominations to be confirmed by a simple majority vote rather than 60 votes -- also will try to push through as many Obama appointees as they can before January.
The highest-profile nominee is Loretta Lynch, Obama's choice for attorney general. McConnell has called for her nomination to wait until January, when hearings would be run in the Judiciary Committee by Republican Charles Grassley of Iowa instead of current Democratic Chairman Patrick Leahy of Vermont.
No final decision has been made, yet a vote on Lynch's confirmation may slip until the new session in January, said two Senate Democratic aides.
For Republicans, the temptation to hold out now for a better deal in January on their agenda should be tempered by the knowledge that they can control the process and try again in 2015, said Kumar, who is now a co-leader of the U.S. Tax Policy Services practice at PricewaterhouseCoopers LLP in Washington.
"If you think you're going to get better terms later," he said, "there's nothing to prevent you from seeking the better terms later."
Before it's here, it's on the Bloomberg Terminal.
LEARN MORE