Bernie Sanders: 'I Want To Run A Good Campaign'
The Vermont independent isn't sure yet if he'll run in 2016.
by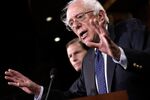 Senator Bernie Sanders, the Vermont independent weighing a 2016 White House bid from the left, sees plenty of blame to go around for the Republicans' recapture of the Senate in the Nov. 4 election.
While President Barack Obama has "not been as strong and clear about a message and legislation that will protect the interests of working families," there's also been "unprecedented" Republican opposition that bottled up bills on pay-equity and raising the federal minimum wage, Sanders said on C-Span's "Newsmakers" program airing over the weekend.
"The president does share his part of the responsibility for what happened, but I think a lot of the blame also has got to go to Republican obstructionism," said Sanders, a self-described socialist who aligns with the Democrats for organizational purposes.
WATCH: Bernie Sanders on "With All Due Respect"
"I think many of the Democratic candidates did not run on an agenda which resonated with working people," Sanders said. Not enough Democrats challenged the "billionaire class" while emphasizing issues like climate change, campaign-finance revisions and income inequality, he said.
About 36 percent of the voting-eligible population turned out to vote on Tuesday, according to political scientist Michael McDonald's latest estimates. Sanders bemoaned the poor participation in his home state. He's introduced legislation to make Election Day holiday.
Sanders may run for president in 2016 as either a Democrat or an independent. While voter anger with both of the major parties might make an independent path more attractive for Sanders, he said running as an independent would be difficult because it would require erecting a 50-state political infrastructure. Ballot-access requirements also make it hard for independents.
Sanders said he wants to see if there's the significant grassroots support needed for a campaign that would push for raising the minimum wage, energy efficiency, more spending on infrastructure, and single-payer national health insurance.
"If there is not that support, I will not run" because "I want to run a good campaign and a meaningful campaign and a winning campaign," Sanders said. "If I can't do that, I'm not interested in running."
See Sanders's interview on Bloomberg Television's "With All Due Respect" program.
Before it's here, it's on the Bloomberg Terminal.
LEARN MORE