A Farmer as Judiciary Committee Chairman? Probably
Bruce Braley's warning to his fellow lawyers appears to have come true.
by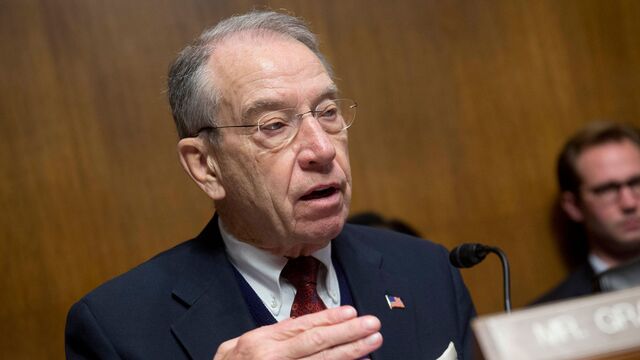 A farmer might just become chairman of the Senate Judiciary Committee after all.
Democrat Bruce Braley warned his fellow lawyers about that possible scenario earlier this year during a private fundraiser in Texas.  The remarks–circulated on video by foes of his Iowa Senate campaign–became one of the biggest gaffes of the midterm elections.
Now, it looks like that Braley's warning will come true. Over the weekend, the Des Moines Register reported that Chuck Grassley, Iowa's senior senator and a farmer, has decided he wants to run the Judiciary Committee, where he currently is the ranking Republican.  Grassley had a choice: His 34 years in the Senate also gave him the option of running the Finance or Budget Committees. 
"Oversight is too often overlooked as Congress focuses on new legislation," Grassley told the newspaper in a statement. "So, anybody who knows my efforts in this area will understand that the Judiciary Committee's work will reflect that sentiment. My goal is to promote transparency and accountability and restore the committee's role as a true check on the massive and powerful federal bureaucracy."
Chairmanships won't be officially decided until after the new Congress is seated in January.  The Register, citing Grassley's aides, reported that the senator would be the first non-lawyer to chair the committee.
Braley, who lost by 8.5 percentage points to Republican Joni Ernst, was deeply hurt by his comments about Grassley, a revered figure in Iowa. In the final Iowa Poll before the election, even 39 percent of Braley's supporters called it his worst campaign goof.
In case you've forgotten, this is what he said:
"To put this in stark contrast, if you help me win this race, you may have someone with your background, your experience, your voice, someone's who's been literally fighting tort reform for 30 years in a visible and public way on the Senate Judiciary Committee or you might have a farmer from Iowa who never went to law school, never practiced law, serving as the next chair of the Senate Judiciary Committee," he said. "If Democrats lose the majority, Chuck Grassley will be the next chair of the Senate Judiciary Committee."
Braley appears to have been right about that.
Before it's here, it's on the Bloomberg Terminal.
LEARN MORE