Meet the Paltry Senate Democratic Freshman Class of 2014
Gary Peters is the only Democrat in a Senate freshman class that could include a dozen Republicans.
by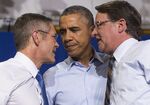 If people still used phone booths, the entire incoming Senate Democratic freshman class could fit in one.
Gary Peters of Michigan is its only member.
Peters, a Detroit-area congressman elected November 4 to succeed retiring Democrat Carl Levin, will join at least 10 Republican newcomers to the Senate in January.
Peters's election was a rare bright spot for Democrats on a night when they lost just about everything, including the majority they'd held since the 2006 election. He won by 55 percent to 41 percent over Republican Terri Lynn Land.
Democrats have had at least two freshmen senators in every class since 1994, when no non-incumbent Democrat was elected to the Senate in that Republican landslide year.
Sharing Peters's claim to fame on the other side of the aisle is Bob Corker of Tennessee, who was the only Republican first elected to the Senate in pro-Democratic 2006.
The freshman Republican senatorial class could grow to 12 if Dan Sullivan's lead over Alaska Democratic Senator Mark Begich holds up and Louisiana Republican Representative Bill Cassidy unseats Democratic incumbent Mary Landrieu in a runoff on December 6.
Click here for a table of Senate freshmen at the beginning of each Congress.
Before it's here, it's on the Bloomberg Terminal.
LEARN MORE