There Is No 'Mission Creep' in Iraq, Obama Adviser Says
Mike Dorning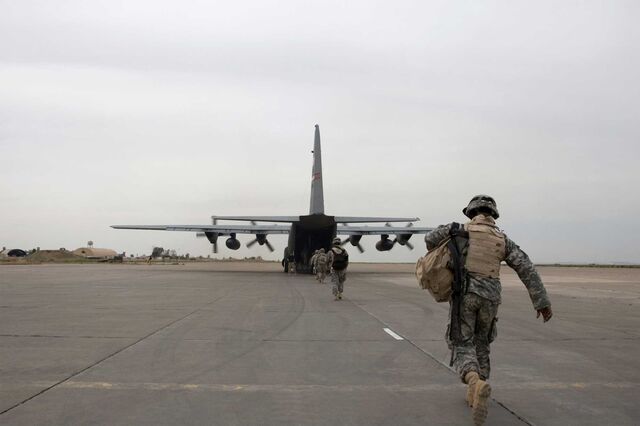 President Barack Obama's decision to almost double the U.S. military force in Iraq "isn't mission creep" in the American fight against Islamic State terrorists, White House Chief of Staff Denis McDonough said.
"They are not there for a combat mission," McDonough said in an interview with Al Hunt for the Charlie Rose program on PBS. It is "the same mission."
Obama earlier today authorized as many as 1,500 additional U.S. troops to join the 1,600 previously approved to deploy to Iraq, while also letting troops there to venture beyond headquarters bases already established in Baghdad and Erbil.
McDonough spoke three days after Obama's Republican opponents swept midterm congressional elections to take control of the U.S. Senate and expand the party's majority in the House. He said there wouldn't be a shake-up of White House personnel.
"I don't see anything like that on the horizon," McDonough said.
Previous presidents have sometimes responded to election losses by firing prominent members of their teams. President George W. Bush dismissed Defense Secretary Donald Rumsfeld after a rout in 2006 midterms. Presidents Bill Clinton and Ronald Reagan responded to midterm election losses in 1994 and 1986 by hiring new chiefs of staff.
In a meeting Obama had today with congressional leaders from both parties, the expanded troop authorization in Iraq and an accompanying request for additional funding were "received pretty positively," McDonough said.
Sea Bass
The two-hour meeting, held over a lunch of sea bass and grilled vegetables in the White House's formal Old Family Dining Room was a "very substantive" and "good, candid conversation," McDonough said.
The president and congressional leaders focused on agenda items they could accomplish in the lame-duck Congress this year, including funding to fight the Ebola virus, McDonough said. House Republicans said they would begin work on resolution authorizing military force in Iraq, though didn't promise a vote by the end of the year, he said.
While the two sides clashed on Obama's plans to take executive action on immigration by the end of the year, Obama didn't back down, McDonough said.
The president hopes the order will be "a catalyst" for Republicans to act, McDonough said, adding that it would "be a shame" if Republicans don't pass immigration legislation.
As a Nov. 24 deadline nears for negotiations with Iran over its pursuit of a nuclear capability, the U.S and Iran "are still pretty far apart on some key questions," he said.
'Very Realistic'
"I'm not going to be optimistic or pessimistic. I'm very realistic about this," he said. "Deadlines have a way of focusing one's mind, and we hope that's what this deadline does."
Should the U.S. and Iran reach an agreement, Congress would ultimately have to act to lift sanctions as Iranians' compliance is verified. But, he said, "the sequence of those actions" remains a part of the talks.
Excerpts of the interview will air this evening on "Charlie Rose: The Week" on PBS stations; the full interview airs on Charlie Rose later tonight on PBS and will be rebroadcast on Bloomberg Television.
Before it's here, it's on the Bloomberg Terminal.
LEARN MORE