What Will Iowa Think of a Pro-Gay Republican Candidate for President?
Rob Portman is the lone, pro-gay marriage Republican thinking about running for president.
by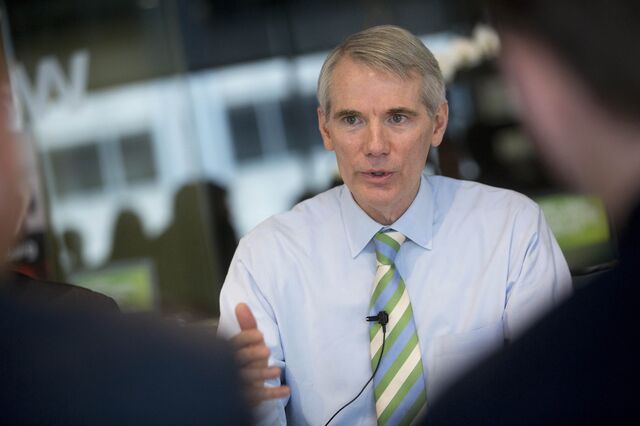 As the issue of gay marriage moves closer to the U.S. Supreme Court, some Republicans are privately hoping the political hot potato will be taken off their plates by way of a judicial fiat. Rob Portman may be one of them, as he's the lone, pro-gay marriage Republican thinking about running for president.
The Ohio Republican senator repeated his presidential musing in an interview with ABC News published Friday. "I am concerned about the country, and I want to see who else jumps in," he said. "I think it's a pivotal election so I am concerned enough that I am taking a look at it."
If he does get in, he could have some trouble at the first stop on the presidential campaign trail: Iowa. His standing on gay marriage, which shifted after his son informed him that he is gay, runs counter to the views of the majority of Republicans likely to participate in the 2016 Iowa caucuses. A Bloomberg Politics/Des Moines Register Iowa Poll taken in early October showed 53 percent of likely caucus-goers support making same-sex marriages illegal.
The same survey also shows Portman is virtually unknown to Republican activists in Iowa, with 81 percent saying they have no opinion about him and the rest equally divided between viewing him favorably and unfavorably. He's also well back in the early pack of potential candidates. Just one poll respondent out of 425 listed him as their first choice for presidential in 2016.
Portman told ABC News that he is standing by his position on gay marriage because he thinks his son "deserves to have the same happiness" he and his wife have enjoyed in marriage and that Republicans should want to promote such marital stability. He said he thinks his party will "eventually" come around to share his perspective on the issue.
That evolution may be hastened by the U.S. Supreme Court. On Thursday, a U.S. Court of Appeals in Cincinnati upheld bans on same-sex marriage in four Midwestern states. That runs counter to judicial decisions in Chicago, Illinois and Virginia. The conflicting views by those courts create an opening for action by the higher court.
The first-term senator, who is planning to run for re-election in 2016, helped lead Republicans though a successful midterm campaign as the National Republican Senatorial Committee's finance chairman. He also was on Mitt Romney's shortlist as a potential running mate in 2012 and served as the nominee's debate practice sparring partner.
Before it's here, it's on the Bloomberg Terminal.
LEARN MORE