What the GOP Really Wants
Imagining President Obama's lunch with the Republicans.
by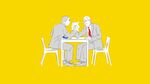 "In the afternoon, the President and the Vice President will host the bipartisan, bicameral leadership of Congress for a lunch meeting at the White House."
—White House Daily Guidance for Nov. 7, 2014
 12:30 p.m. The Oval Office. 
Chief of staff Denis McDonough: Sir, the Republicans are here.
President Barack Obama: How wonderful! What's the occasion?
McDonough: You invited them over, just before the midterm election.
Obama: Oh right, the midterms. How'd we do?
McDonough: In the midterms? Three days ago? It's been all over the news.
Obama: Jeez, sorry, Mom. I've been a little busy being president. It's not all fun and games and campaigns and watching cable news, you know. There are real things going on.
McDonough: Of course. I meant no disrespect. But it didn't go well. The Republicans picked up seven seats in the Senate—
Obama: Hey, do we have a number for Michael Jordan? I've been trying to get in touch with him for days but he won't respond to my Facebook messages.
McDonough: Should I let the Republicans in now?
Obama: Yeah—but tell M.J. I want to hit the links soon. 
12:40 p.m. The Old Family Dining Room. The Republicans enter.
Obama: Guys! First of all, congratulations. I remember what it's like to be a senator in the majority. You guys are gonna have a blast.
Senate Minority Leader Mitch McConnell: Cut the crap, Obama.
House Speaker John Boehner: Yeah, we're sick of it. It's our time now. Time to get serious.
Obama: Whoa, whoa. Guys, I'm just being nice. I even stayed out of the midterms as much as I could. We're friends!
McConnell: Friends? Listen up pal, things are about to change in this town. The people want change. We have demands. And they're non-negotiable.
Obama: All right, that's fair. Well, let's talk about it. What do you want?
McConnell: First, let's talk parking spaces.
Obama: Excuse me?
McConnell: Since 2008 you've held the best parking spot in town. I want it.
Obama: You don't mean…
McConnell: I do. The executive spot at PMI, 1100 Connecticut Ave.
Obama: I can't give that up! It took me months to get that spot. Direct elevator access!
McConnell: Non. Negotiable.
Obama: Fine. Take the damn parking spot. I'll park on the street.
McConnell: Good. Second: No more tuna salad sandwiches in the congressional cafeteria.
Obama: Come on. I go to the Hill a lot for meetings and that's the only thing I can look forward to afterward!
McConnell: Get rid of them.
Obama: What am I gonna eat after my meetings?
McConnell: Maybe you should have thought of that before you lost the Senate majority. Besides, Joni Ernst will be here in a few months. We'll have plenty of pork sandwiches.
Obama: Ugh. Boehner, are you seriously letting him do this? That's my special sandwich! They make it just for me!
Boehner: No tuna.
McConnell: And while we're talking about food, there are two words we never want to hear again.
Boehner: Let's. Move.
McConnell: Third: Casual Friday is over.
Obama: What? That's not even for me. That's for Joe. Let him keep that one.
Vice President Joe Biden: You mean this is the last time I can wear this Green Day Pop Disaster Tour 2002 shirt?
McConnell: Throw it out.
Boehner: We told you we were serious.
Obama: This is all Kay Hagan's fault.
Biden: Well, and Mark Pryor.
Obama: And Michelle Nunn.
Biden: Ohhh, I forgot about her.
Boehner: And Mark Udall.
McConnell: John, stay focused. Fourth: We're repealing Obamacare.
Obama: Fine.
Biden: Fine.
McConnell: Finally, one more thing. Next time we go golfing together, we choose the teams.
Obama: This is shaping up to be the worst part of my presidency.
Boehner: Speaking of which, how's 18 holes sound for tomorrow afternoon? I'll ask M.J. if he wants to come.
Obama: Wait, you have Jordan's number?
Boehner: Yeah, of course. I call him for my team though.
Obama: You know what? I'm OK with that.
Before it's here, it's on the Bloomberg Terminal.
LEARN MORE