Mitch McConnell Pledges Rand Paul Support in 2016
"He'll be able to count on me," the top Senate Republican says.
by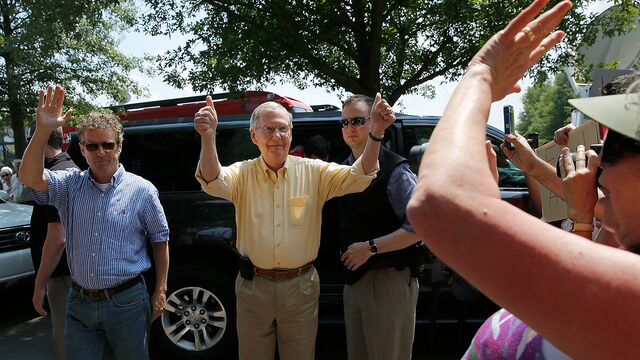 It's a true sign of progress when your former haters become your motivators. Or, in Republican Senator Rand Paul's case, when the man who endorsed your 2010 primary opponent says he'd back you for president of the United States of America.
In a post-election interview, Senate Minority Leader Mitch McConnell, whose party is preparing to take control of the chamber in January, told the Lexington Herald-Leader that whether Paul, a fellow Kentuckian, runs for re-election or runs for president, he has his support.
"Obviously, I'm a big supporter of Rand Paul. We've developed a very tight relationship, and I'm for him."

For president?

"Whatever he decides to do," McConnell said. "I don't think he's made a final decision on that. But he'll be able to count on me."
Paul and McConnell have had a sort of friendship of convenience over the last four years. In 2010, after McConnell's pick for Kentucky's open seat lost to Paul in the primary, the minority leader backed Paul. The two have since worked on legislation together, and Paul campaigned for McConnell.
While McConnell will support Paul in whatever choice he makes, the state of Kentucky may not be as forgiving: Its election laws would prevent him from running for both Senate and president. Kentucky Republicans are looking into getting a change to the law past the state's Democrat-controlled House.
But that's all a bit premature. A Paul spokesman told Politico that Paul is "100 percent committed to running for reelection," and will make his final decision on 2016 in the spring. 
Before it's here, it's on the Bloomberg Terminal.
LEARN MORE