Election Losses Give Obama Weaker Hand Overseas
Terry Atlas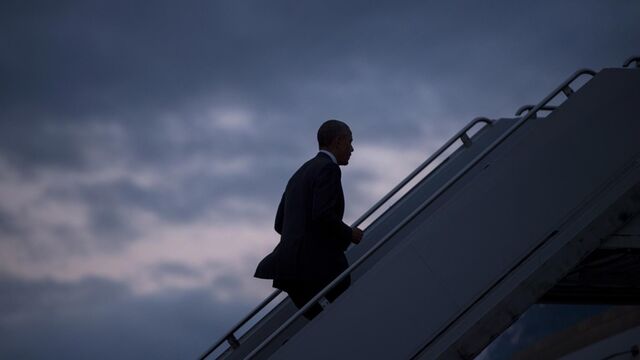 President Barack Obama brings a weakened hand and heavier political baggage to meetings next week with world leaders after Democratic defeats in U.S. congressional elections.
Obama leaves Nov. 9 for the Asia-Pacific Economic Cooperation summit in Beijing, where he also will have a state visit with Chinese President Xi Jinping. He next goes to Myanmar for the East Asia Summit and U.S.-Asean Summit, followed by a G-20 Leaders Summit in Brisbane, Australia.
While the trip may give him a break from Republicans' post-election bravado, the fact that he'll be facing an opposition-controlled Congress starting in January may undercut Obama's dealings with foreign leaders during his remaining two years in office.
The Nov. 4 election "underlines the fact that he's a lame duck" said Dana Allin, senior fellow for U.S. foreign policy and transatlantic affairs at the International Institute for Strategic Studies in London.
Abroad, people will interpret the Democratic defeats "as a sign that an already weakened, vacillating president is weaker still," said Aaron David Miller, a former Middle East negotiator during both Republican and Democratic administrations.
Already, the Chinese state-run Global Times newspaper, in an editorial coinciding with the U.S. elections, said that Obama has done an "insipid job" and that "U.S. society has grown tired of his banality."
'Shrinking Presidency'
"I've never heard the Chinese criticize U.S. leaders like that," said Richard Armitage, former deputy secretary of state under Republican President George W. Bush and a former Defense Department official. "They might criticize things the president said, but not the leadership ad hominem. So I think in China, at least, he is seen as not being able to deliver."
Diminished presidential authority may be more a matter of perception than reality, since Republicans are unlikely to force major changes in how the U.S. deals with foreign policy challenges from China's increasing regional assertiveness to Russia's moves against Ukraine and the fight against Islamic extremists in Iraq and Syria.
"He's a shrinking presidency, but he is still president of the most powerful nation in the world, and that has not changed," says Armitage, president of Washington-based Armitage International L.C.
While foreign policy didn't figure prominently in the elections, some Republicans reinforced what polls showed are public concerns that Obama hasn't dealt effectively with threats from the rise of Islamic State militants to the spread of Ebola.
Limited Leverage
The president has said he's implementing a strategy to "degrade and ultimately destroy" the Islamic State group and that the U.S. is doing more than any other nation to aid West African nations fighting Ebola.
Republicans such as Senator John McCain of Arizona, who aspires to be chairman of the Senate Armed Services Committee, and Bob Corker of Tennessee, who's positioned to become chairman of the Senate Foreign Relations Committee, have been critical of Obama's handling of matters including support for Syrian rebels and negotiations with Iran on its nuclear program.
On many foreign policy matters, congressional leverage over the president is limited, particularly because Senate Republicans don't have the 60 seats needed to pass legislation without Democratic votes, much less the 66 needed to override a presidential veto.
Congress can use its appropriations powers, though, particularly when it comes to paying for military actions and issues such as modernizing the nation's nuclear weapons systems, favored by many Republicans.
Congressional Reset?
Jane Harman, a former Democratic member of the House intelligence committee, said Obama needs to find ways to work with Congress, as he's doing by changing his position to seek congressional authorization for the military action in Iraq and Syria against Islamic State.
"He needs to reset his relationship with Congress," said Harman, who's now president of the Wilson Center, a policy research group in Washington. "I don't think a unilateral foreign policy is wise after the country has told him they want to go in a new direction."
"It's been six years of too little contact," Harman said.
One area of shared interest is the prospective trade accords with Pacific nations and the European Union. Obama wants "fast-track" authority to negotiate trade deals, including the proposed 12-country Trans-Pacific Partnership, and to get up-or-down votes in Congress without amendments.
Democrats Dissent
Many Republicans favor that, while the issue divides Democrats, who are reluctant to give the president authority to negotiate accords that might disadvantage some U.S. workers. Republican Mitch McConnell, in line to become the Senate majority leader, said he and Obama spoke about cooperating on trade agreements.
In addition to the force-authorization measure covering Iraq and Syria, Obama will need Congress to remove nuclear-related sanctions on Iran if current negotiations yield an agreement.
Republicans and Israeli leaders have been vocal about concerns that Obama, looking for a legacy measure, is heading for bad deal that won't fully prevent Iran from producing nuclear weapons. Legislation drafted by Corker, McCain and Senator Marco Rubio of Florida would require congressional vote on whether to approve the terms of a deal.
"The new Congress will be much less likely to take half a loaf from the Iranians on the nuclear question," said Armitage, who said lawmakers also may focus on Iran's "mischievous activities" in the region.
Israeli Relations
The Iran question may spill over into relations with Israel, where Prime Minister Benjamin Netanyahu has looked to Republican lawmakers to offset his testy relationship with Obama on matters ranging from Jewish settlement expansion to the prospective Iran nuclear deal.
Israeli leaders have been asking themselves whether the difficulties with the Obama administration are a cyclical blip or something more serious, said Allin. With Republicans having done well, the Israelis "may be tempted to think, yeah it's just a blip, and once Obama leaves office things are going to improve," he said. "I think that's wrong."
As Republicans weigh in from both houses of Congress, there may be pressure on Obama to be tougher with both China and Russia.
"There are voices in the Senate who want to push him to do more with respect to checking Vladimir Putin, but I think that's more talk than anything else," said Miller.
Russia Discussions
Obama has backed international sanctions on Russia for its military intervention in Ukraine and has cut off most bilateral contacts. Russian Ambassador to the U.S. Sergei Kislyak said this week that there have been no preparations for formal Obama-Putin talks at the APEC or G-20 summits -- though officials don't rule out an informal discussion on the sidelines of the two summits.
Many Republican lawmakers want a stronger U.S. position in dealing with China on its assertiveness in the South China Sea and its alleged currency manipulation to boost exports, said Armitage.
"China will come into starker relief," he said. "I know the Chinese have been nervous, but they thought they had to be nervous two years from now because if a Republican won the presidency or if Mrs. Clinton does, they think things are going to be tougher."
Meanwhile, some key Asian allies at the summit may be looking for reassurance from Obama.
"In Japan, they're worried he has lost his way a bit, and I think that's true in Korea, as well," said Armitage.
Given a Republican-controlled Congress and projections of a Republican-majority in the House to 2020, "I don't see how the United States is ever ever going to be able to pass legislation to deal with what is arguably the most important foreign policy challenge it has, which is climate change," said Allin.
Before it's here, it's on the Bloomberg Terminal.
LEARN MORE