White House Looking to Brooklyn for Attorney General
Del Quentin Wilber, Mike Dorning and Jonathan Allen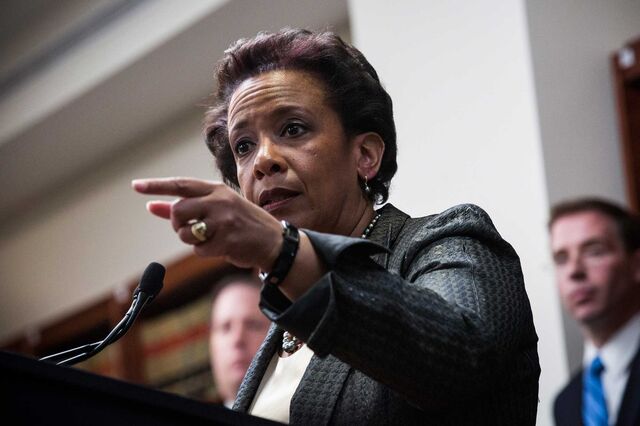 Loretta Lynch, the federal prosecutor in Brooklyn, has emerged as President Barack Obama's leading choice to become the next U.S. attorney general, according to three officials familiar with the selection process.
Lynch, 55, is in her second stint as U.S. Attorney for the Eastern District of New York and had originally been under consideration for the Justice Department's No. 2 job. She has risen as a contender for attorney general in the wake of the decision by former White House Counsel Kathryn Ruemmler to pull herself out of contention for the post.
A White House official who spoke on condition of anonymity to discuss a personnel matter confirmed that Lynch is being vetted for the job. Dan Pfeiffer, a senior adviser to Obama, said the process of picking Eric Holder's successor was almost done.
"I think we will have a nominee soon," Pfeiffer told reporters and editors at a Bloomberg breakfast today, framing Obama's timetable in terms of a weeklong trip that begins Nov. 9. "I can't promise it will be before we go to Asia."
The people familiar with the process, who asked for anonymity, also said the president hasn't yet made a final decision and they cautioned that issues could emerge as Lynch is being vetted for the job.
Even so, she has emerged as the leading candidate for reasons ranging from her background to the chances of her being confirmed in the new, Republican-controlled Senate, which will take over in January.
Easier Path
White House press secretary Josh Earnest told reporters today "the president has not made a decision" on who would succeed Eric Holder, who has said he will remain on the job until a new attorney general is confirmed, which he says he expects early next year.
Lynch, who would be the first black woman to head the Justice Department, is regarded as a law-and-order prosecutor who took on banks and also developed a reputation for knowing how the Justice Department works.
She is seen as having an easier path to confirmation than two others under consideration: Solicitor General Donald Verrilli and Labor Secretary Tom Perez, who are closely tied to Obama's record on issues that will be attacked by Republicans.
Lynch oversees federal prosecutions in an area of New York that includes Brooklyn, Staten Island, Queens and the rest of Long Island.
Negotiating Settlements
During her current tenure, the office negotiated a $1.92 billion money-laundering settlement with HSBC Holdings Plc in 2012 and is investigating whether banks violated anti-bribery laws by hiring the children of government officials in China to win business.
Lynch's office aided in a federal investigation that resulted in Citigroup Inc.'s agreement in July to pay $7 billion in fines and consumer relief to resolve claims it misled investors about the quality of residential mortgage-backed bonds sold before the financial crisis. Her office was also involved in Bank of America Corp.'s $16.7 billion settlement to end federal and state probes into mortgage-bond sales.
If nominated and confirmed, Lynch would be the first U.S. attorney elevated directly to the top Justice Department job since the 1800s.
Before it's here, it's on the Bloomberg Terminal.
LEARN MORE