The Moment a Republican Operative Knew the Democrats Would Lose
Exit polls and reports from the field gave Republicans a good feeling early on Tuesday.
by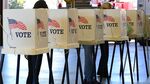 For Democrats, the 2014 midterm election was the perfect storm. 
"From the crisis over the children at the border, to the Veterans Administration, to Ebola, to ISIL, there were just multiple times where it was much easier for them to nationalize the election, to continue making it personal to the president," Guy Cecil, executive director of the Democratic Senatorial Campaign Committee, said Thursday at a post-election conference held by CQ Roll Call.
President Barack Obama's poor approval rating dimmed prospects for Democrats, who were defending Senate seats in seven states the president lost in 2012. Democrats may wind up losing them all. They also lost Senate races in Iowa and Colorado, two states that Obama carried in 2012.
"The states where this battle was played out were largely red states and a couple of purple states," Cecil said, referring to the color-coding conventions for Republican-leaning and politically competitive states, respectively. Fighting Republicans over the crises, and not over the improving economy, "became too much for us to overcome," Cecil said.
Republicans may hold 54 Senate seats in the 114th Congress that begins in January, a net gain of nine.  They certainly picked up seven after defeating three Democratic incumbents and capturing the seats of four retiring Democrats on Tuesday. Two more may fall in Alaska, where Republican Dan Sullivan's lead over Democratic incumbent Mark Begich should hold, and Louisiana, where Representative Bill Cassidy is favored to defeat Democratic Senator Mary Landrieu in a Dec. 6 runoff.
Cecil's counterpart, Rob Collins of the National Republican Senatorial Committee, said he thought Republicans would have a good night after seeing exit polls and field reports before the polls closed. A "big pivot point," he said, was favorable news out of Kansas, where Senator Pat Roberts easily defeated independent Greg Orman in a contest that polls suggested was much closer.
In Georgia, Republicans thought David Perdue might have trouble winning the 50 percent of the vote needed to avoid a January runoff. When reports showed Perdue thriving in some key counties and precincts, Republicans had a feeling of "'Oh wow, I think we're going to be OK,'" Collins said.
Cecil said he saw troubling signs in the election's final days. "The numbers were marginally moving against us in a uniform fashion," Cecil said. "We do about 500 interviews a night in every state, tracking every race, and it became very clear that in particular, undecided voters and independent voters had not made their decision."
The Republican wave washed up everywhere. It didn't matter that the DSCC raised more money than the NRSC; the Republicans raised enough, and they had plenty of outside funding to narrow the gap. Republican advances in technology also helped, though the wave helped a lot more.
"Republicans could have carried a Commodore 64 on a wagon behind them going door to door," Cecil said. "It wasn't going to change the fundamental dynamic of the election."
The Senate map is more challenging for Republicans in 2016, when the next presidential election will produce a bigger and more racially and ethnically diverse electorate. Democrats will be defending just 10 Senate seats compared with 24 for Republicans, including seven in states that Obama won in 2012.
"Every Senate map is not created equally," Cecil said.
Here's a rundown displaying the 2016 Senate elections where Republicans are defending states Obama won in 2012, and the 2014 Senate races where Democrats were the incumbent party in states Obama lost:

Before it's here, it's on the Bloomberg Terminal.
LEARN MORE